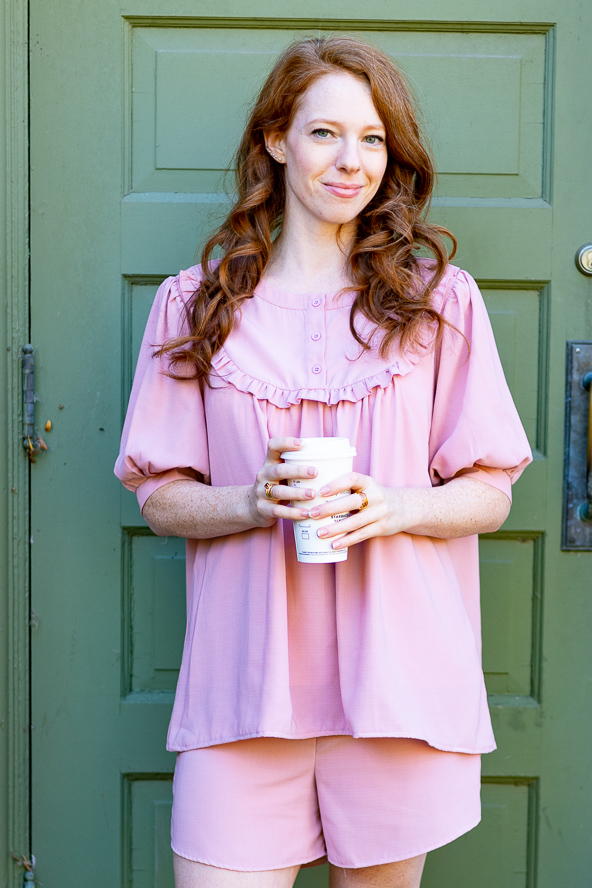 An outdated thrift store nightgown becomes a playful and chic loungewear set with this refashioning project. Turn an oversized nightgown into a comfy-cute pajama shorts set that you can wear to bed or around the house that's custom made to fit your measurements. This fun sewing project shows you how to incorporate original garment details like a bib collar while creating something brand new. Plus, this project only uses a single length of elastic!
Skill Level: Intermediate
Finished Size: Custom fit
Materials:
Nightgown

Thread in a color to match

Elastic to fit your waist
Tools:
Pencil

Scissors

Sewing machine

Pinking shears

Pins

Tape measure

Paper
Ruler
DESIGNER NOTES: The designer made their sample pajamas using a standard domestic sewing machine – for a really professional look, why not use an overlocker/serger? These clever machines not only stitch but also cut and finish the edges of your fabric as you go, too.
Instructions:
First, you'll need a pattern to work from. You have two options here – you could use an existing shorts pattern that you know and love, or alternatively, you can make your own. To do this, fold a pair of shorts that fit you well in half to show the shape of the front of the garment and lay them onto a large sheet of paper. Draw around them, then fold in the opposite direction to show the back and repeat. Cut the pattern pieces out and label them 'front' and 'back'.


Lay your nightgown out flat. Use your pattern to cut two front pieces and two back, placing them as close to the bottom of the garment as you can to minimize waste and reversing/flipping the front and back second piece, creating a mirrored effect. Once cut, place the remaining top half of your nightgown to one side – you won't need this until Step 7.


Make the legs. Place one front piece right sides together with one back piece, and pin along the side edges and in-seam edges. Work a straight machine stitch along both edges to secure, leaving a 3/8" seam allowance. Repeat to make the second leg, then trim the seams down to 1/4" using pinking shears.


Turn one leg right side out and slip it under the other so that the right sides are facing each other, aligning the seams and edges. Pin, then stitch the crotch seam with a 3/8" seam allowance. Work over the seam again to reinforce the join. As before, trim the seam allowance back to 1/4" with pinking shears to neaten it, then press and turn right sides out. Turn 1/4″ under two times and then hem so there is a clean edge finished for hem.


Make the waistband. Measure the circumference of the top of your shorts, add 1/2", then cut a 2 1/2" wide strip of fabric to this length. Depending on how much spare fabric you've got in your nightgown, you may need to join several smaller pieces together to get the right size – if you do, try to work the joins symmetrically to keep things looking neat. Once cut, fold a 1/4" double hem along one long edge, pin, then stitch to secure.


With right sides facing, stitch the two short edges of the waistband together, leaving a 1/4" seam allowance. Position this band around the top edge of your shorts with right sides together, aligning the unstitched long edge of the waistband with the unstitched top edge of the shorts. Pin, then machine sew all the way around. Next, fold the waistband over to the wrong side of the shorts until the long finished edge slightly overlaps the seam joining the two together. Press, then stitch in the ditch to create a waistband channel, leaving the last 2" unstitched. Cut a piece of elastic to comfortably fit around your waist, then thread it through the channel, using the unstitched opening in the seam. Stitch the two short edges of the elastic together to form a loop, then close the gap in the seam to finish.


Finally, make your top from the remaining upper half of your nightgown. To work out how long the finished garment needs to be, take an existing t-shirt or pajama top that you know fits you well and measure the length of it, from shoulder to hem. Add 3/8" to this amount, then write this number down  – this is your Top Length measurement. Lay the remaining top half of your nightgown out and, measuring down from the shoulder seam, measure and mark the Top Length onto it – this will show you how much fabric you need to remove to make it fit well. Trim the nightgown top to match the Top Length measurement, ensuring the cut edge is straight all the way across. Fold a 1/4" double hem all along the edge and machine stitch to finish.


Love this cute pajama set? Use your off-cuts to make a matching sleep mask!