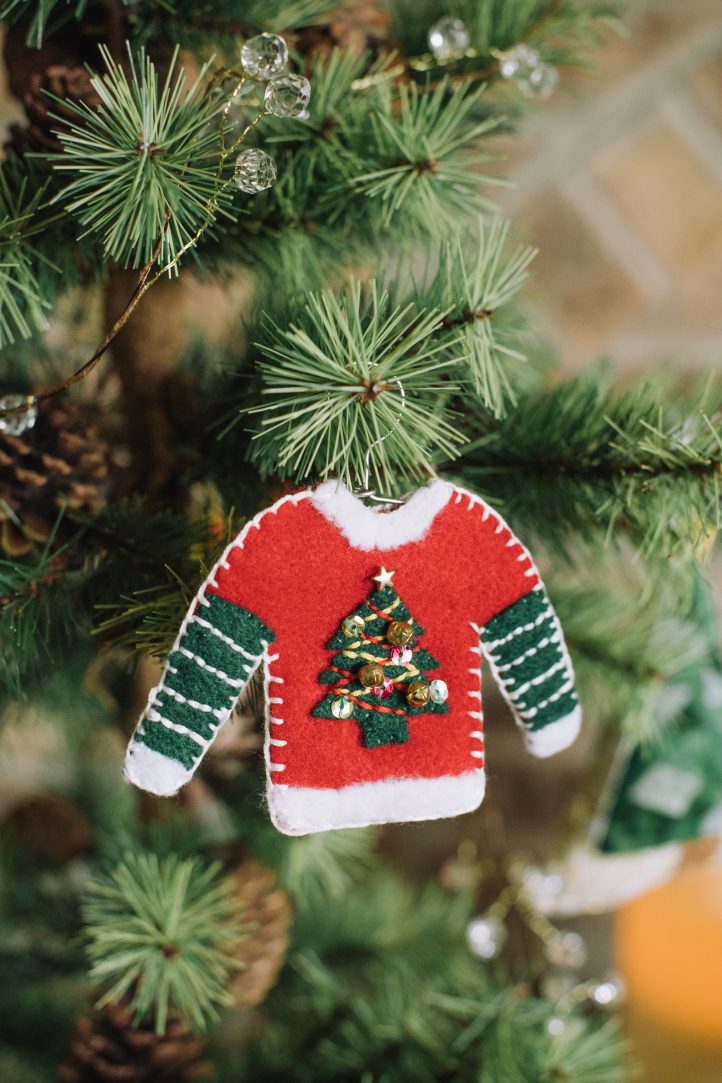 There is no Christmas staple as cute and kitschy as the "ugly" Christmas sweater. If you can't get enough of this delightfully tacky holiday tradition, then you'll love this charming hand sewing project. Design your own tiny ugly Christmas sweater ornament using scrap felt and embroidery floss! This beginner sewing project is easy to customize and makes a perfect quick gift for co-workers, friends, and more.
Skill level: Beginner
Finished Size: Approximately 3  1/2″ square
Tools
Scissors
Safety pins or Wonder Clips
Embroidery needle
Needle nosed pliers (optional)
Materials
(Fabric A) 10″ square of red felt or fabric scraps
(Fabric B) 5″ square of green felt or fabric scraps
(Fabric B) 5″ square of white felt or fabric scraps
Matching thread
Red, yellow, green, and white embroidery floss
Assorted accents (e.g. sequin, small bells, beads)
16 gauge wire (optional)
PDF Pattern – This is located at the bottom of this page. See printing instructions below.
PRINTING INSTRUCTIONS:
To download the PDF pattern, click on the download button at the bottom of the page. We recommend opening your download using Adobe Acrobat.
Pattern Notes
This ornament is written to be fully hand sewn, but may be sewn with a machine.
Sweaters with other designs can easily be created using the blank sweater back on the diagram as a base.
Instructions
CUTTING
Trace out and cut 2 ornament backs from A. Trace and cut out all Sections for B and C as well.
SEWING
Place all sections of B onto one of the A cutouts. Take one strand doubled of your green embroidery floss and whipstitch around each B cutout to secure in place.
Place all sections of C onto the same A cutout, some will overlap with the previously sewn B pieces. Take one strand doubled of your white embroidery floss and whipstitch around each C cutout to secure in place.
Using the finished sample photos as a guide, embroider onto the front panel as you see fit using a backstitch and 3 strands of floss doubled. Add embellishments to the Christmas tree and striping onto the sleeves. Secure ends and trim all excess thread.
Embroider year onto bottom rightmost corner of back panel using white floss and backstitch.
Bring panels wrong sides together. Starting at one side of the 'neck' opening, use a blanket stitch to sew all the way around the ornament, stopping at the exact opposite point. Use 3 strands of white floss doubled. Be sure to leave the neck opening intact.
FINISHING
Using the diagram as a guide, bend wire into a general hanger shape at approximately 2″ wide using pliers. Trim any excess wire and be sure that no sharp ends are present. Slip the ornament onto the hanger for a finished look.
---
Gold Members, Download Here
Not a gold member yet? Join Now