Make something for yourself, the deck — even the beach. Our new collection of fun pinwheel patterns is ready and waiting for you!
Dear Sewing Superstar,
Long summer days remind me of some of the simple joys of childhood: playing in the park, pinwheel in hand, watching the wheel spin in the summer breeze. When the summer breeze wasn't enough, we'd make our own. Create your own summer breezy joy with our Easy Windmill and Pinwheel Patterns Collection from We Like Sewing!
Pinwheels are a foundation of quilting. You don't have to be an expert quilter to master the pinwheel block. Our Rose Quartz Pinwheel Quilt Block is an excellent project for beginning quilters and beyond. Practice your piecing skills as you learn to make four different pinwheels: the basic windmill, the turnstile block, the classic pinwheel, and a pinwheel variation. Pinwheels are a popular feature in many quilts. Once you're comfortable making these different blocks, you'll find you have a lot of creative choices in choosing — or even creating — your own quilts.
The key to making an eye-catching pinwheel is to choose contrasting colors in either solids or minimal patterns — think tiny floral print. You need the contrast to make the pinwheels stand out, and you want to avoid overly busy print patterns so they don't detract from the pinwheel pattern. With the right combination of color and (tiny) pattern, you'll have a beautiful set of quilt blocks that will create liveliness and movement in your next quilting project.
So, what's in your fabric stash? I bet you have enough scraps to piece together a reusable lunch bag that's uniquely you. Our Stashbuster Pinwheel Quilted Lunch Bag is a quilting stashbuster's dream. Put the classic pinwheel pattern to excellent use to create the body of this bag. This lunch bag is budget-friendly and so much cuter than store-bought lunch bags (and I bet it'll last longer, too!).
It may be warm now, but we all know winter is coming. Get ahead of the cold weather with our First Snowfall Patchwork Quilt Block. Advanced beginning quilters will enjoy creating this wintry wonder in shades of silver, white, and blue. This snowflake quilt block uses half square triangles as the building block for the design. Use this design for mini quilts and home décor.
If you're in the mood to make a bigger project, the decision could be as easy as black and white — and gray. Our Between the Lines Windmill Quilt is well worth the time you'll spend to make it. The end result is striking with its eye-catching contrast. This pattern calls for precise piecing in order to create the stunning windmill effect, making this a terrific project for intermediate and experienced quilters.
You don't have to be an expert quilter to make any of the projects in our Easy Windmill and Pinwheel Patterns Collection. Each pattern in this issue includes a detailed template, pattern notes, and a complete list of the tools and materials you need to succeed. So many choices… My head is spinning just thinking of what to make next. What's first on your list?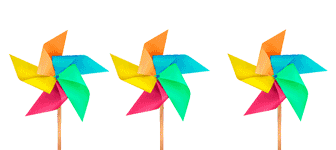 When you activate your We Like Sewing Gold Club Charter Membership today, you'll get access to everything we have about sewing and quilting—all access, all the time:
Summary of Gold Club Membership Benefits
Description
Your Price
1 Year We Like Sewing Charter Gold Membership
Now only: $59/year!
A full year of We Like Sewing magazine—12 monthly issues packed with gorgeous designer patterns with step-by-step instructions, tutorials, sewing tips and tricks, and expert techniques.
INCLUDED
Full access to the We Like Sewing digital project library, that's instant, complete access to every single printable pattern, tutorial, and video we have ever published!
INCLUDED
Instant access to We Like Sewing Collections–we've created topic specific collections of our favorite projects. You'll find Christmas, Baby, Summer, and more!
INCLUDED
We Like Sewing Videos–watch clear step by step instructions on hand sewing, machine sewing and quilting techniques.
INCLUDED
Instant digital access, so you can take your projects with you anywhere.
INCLUDED
Stunning full-color photographs for quick and easy learning.
INCLUDED
Please act now, while this special offer is still in effect for you!
Happy Sewing!


Caitlin Eaton
Editor, We Like Sewing Magazine
P.S. Imagine having 24/7 access to hundreds of sewing patterns and articles, step-by-step instructions, and video tutorials to help you master any sewing project. All this and more can be yours when you become a Charter Member of the We Like Sewing Gold Club today!