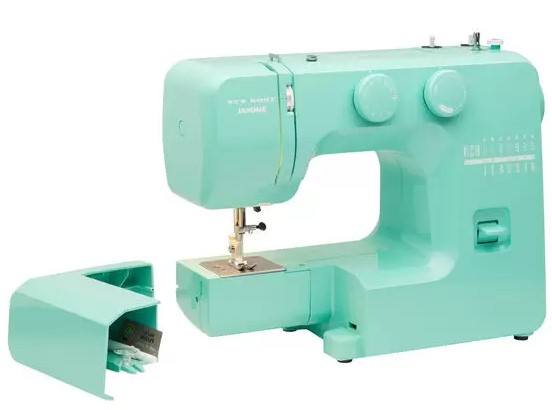 The holiday shopping season is already underway and if you've been in the market for a new sewing machine, then our sewing machine round-up is here to help! We're always on the hunt for new sewing and quilting gadgets to share with our readers, which is why we're sharing our top picks to start off 2022. This collection of sewing machine must-buys covers a wide range of different prices and specialty uses, from basic sewing machines for your everyday projects to more specific quilting machines and sergers. We've even included some excellent sewing machines for kids, so that even your little ones can join in on the crafting fun. Find the perfect sewing machine for you with our Best of 2021 round-up!
Best Basic Sewing Machines
These basic sewing machines are ideal for everyday sewing, as well as for beginner sewists who are learning the basics. They typically have a limited number of stitch types and can sew a wide range of projects. These machines are also more affordable than specialty machines, while still being built to last a long time.
Janome 2212 Sewing Machine – Janome is one of the most renowned and popular brands of sewing machines, and their 2212 is ideal for home sewists. This machine has 12 built-in stitches and features a drop feed for free motion quilting. Reviewers on Amazon note that this machine is great for sewing through multiple layers of fabric and bulkier fabrics.
Price: $199 on Amazon.com

Brother XR3774 Sewing Machine – Another staple in the sewing machine world, Brother is another hugely popular brand of machines. Their XR3774 machine is more heavy duty than the Janome, as it's designed for sewing and quilting and has an automatic needle threader.
Price: $138 on Walmart.com (currently sold-out)

Best Sewing Machines for Quilting
If you're looking for a sewing machine that can handle your quilting projects (and if you don't have all the extra space a long-arm machine requires), then these are the machines for you. Sewing machines designed for quilting are generally similar to most basic sewing machines; however, these machines have great add-ons that quilters love, such as quilting foot options and extension tables.
Janome MC6650 Computerized Sewing and Quilting Machine – This sewing and quilting machine from Janome features a top-loading bobbin system, thread trimmer button, and most impressively, 170 stitching options. This is a heavy-duty machine that's easy to use and is great for free motion quilting.
Price: $1,599 on Amazon.com

Eversewn Sparrow 20 Sewing Machine – If you're looking for a machine that's sleek and uncomplicated, then this machine from Eversewn is an excellent choice. This machine has 49 decorative stitches and 10 quilting stitches, is lightweight, and comes at a more affordable price.
Price:$279 on Amazon.com

Best Embroidery Sewing Machines
Embroidery sewing machines are designed to do more delicate embroidery work than basic sewing machines and have more designs and stitches available. Due to their ability to create a wide array of embroidery designs, these machines typically have more digital features and are more expensive than basic sewing machines.
Brother SE1900 Sewing and Embroidery Machine – If you love working on embroidery projects, then this is the machine for you. Capable of both embroidery and sewing, this machine from Brother has 138 built-in designs and a 5" x 7" embroidery field.
Price: $529.99 on Amazon.com (currently sold out)

Bernette B79 Sewing and Embroidery Machine – In addition to a large extension table, this Bernette sewing and embroidery machine has 7 embroidery alphabets built in, as well as 208 embroidery designs and the ability to program automatic thread cutting.
Price: $1,999 on Amazon.com

Best Long-Arm Quilting Machines
For the hardcore quilters out there, we've included some long-arm quilting machines that will add a professional finish to your quilting projects. These quilting machines come with tons of cool features like fast stitching and extra work space but they're much more expensive than your basic quilting machines, so if you're just learning to quilt, you may want to start with something a little smaller.
Consew 255RBL-25 Long Arm Lockstitch Machine with Assembled Table and Servo Motor – If you're old school and prefer a machine without digital displays, then this machine from Consew may be perfect for you. This machine is super heavy duty, has a high-end quilting frame, and can handle heavy fabrics like canvas and leather.
Price: $6,699.95 on SewingMachinesPlus.com

Handi Quilter Amara 20 inch Longarm Quilter Machine – Great for free motion quilting, this long-arm machine has 5 built-in, tie-off stitches and programmable handlebar buttons. If you're new to long-arm quilting, you may enjoy this machine as it has easy navigation and can handle up to king-size quilts.
Price: $12,995 on HandiQuilter.com

Best Sewing Machines for Kids
Get your child excited about learning how to sew with these sewing machines for kids! These kid-friendly machines have basic stitches, handy features, and are smaller and more affordable than larger adult sewing machines. Narrow down your child's Christmas list by checking out these options.
Janome Arctic Crystal Sewing Machine – Aside from being absolutely adorable, this small Janome machine has an automatic needle threader and is portable. This machine lets you wind bobbins easily and is designed for beginners.
Price: $119.99 at Joann's (in-store pick-up only at this time)

Donyer Portable Mini Sewing Machine – This mini sewing machine from Donyer is designed specifically for children, so it's not as powerful as a regular sewing machine. However, this machine offers a low power setting for younger children for safer sewing and has a built-in needle threader guide.
Price: $63.99 on Amazon.com

Best Sergers
Sergers, sometimes called overlock machines, are a great way to give your sewn garments a professional finish and strong seams; however, it's important to note that sergers are not the same as basic sewing machines, so we recommend these for more experienced sewists. These sergers are fast and easy to operate, so that you can take your homemade clothing to the next level.
Brother R1634D 3 or 4 Thread Serger with Differential Feed – This serger from Brother features a simple threading system and allows you to sew with 3 or 4 threads, and also features a retractable knife blade to prevent accidental cutting. You can also use this serger to create ruffles and insert zippers, in addition to giving your garments the perfect finishing touch.
Price: $159.99 on Brother-USA.com

Brother ST4031HD Serger Machine – Another user-friendly serger from Brother, this machine is great for heavy duty projects and has a maximum sewing speed of 1,300 stitches per minute! This machine also features color-coded thread guides and a wide extension table.
Price: $341.99 on Amazon.com

We hope our sewing machine round-up has you excited to start shopping! Start off the new year by treating yourself to a sewing machine upgrade. No matter your budget or skill level, the perfect sewing machine for you is out there.
Further Recommended Reading:
Kallinger, Jane. "Best Serger Sewing Machine: Our 6 Top Picks", sewingfromhome.com
Pardilla, Ambar. "5 best sewing machines for beginners, according to experts", nbcnews.com
Reed, Shannon. "Best Long Arm Quilting Machine in 2021", quiltersreview.com
Reed, Shannon. "Best Sewing Machine For Kids in 2021", quiltersreview.com
Reed, Shannon. "Best Sewing Machine for Quilting – Top Reviews for 2021", quiltersreview.com
Seymour, Emma. "4 Best Embroidery Machines in 2021, According to Sewing Experts", goodhousekeeping.com