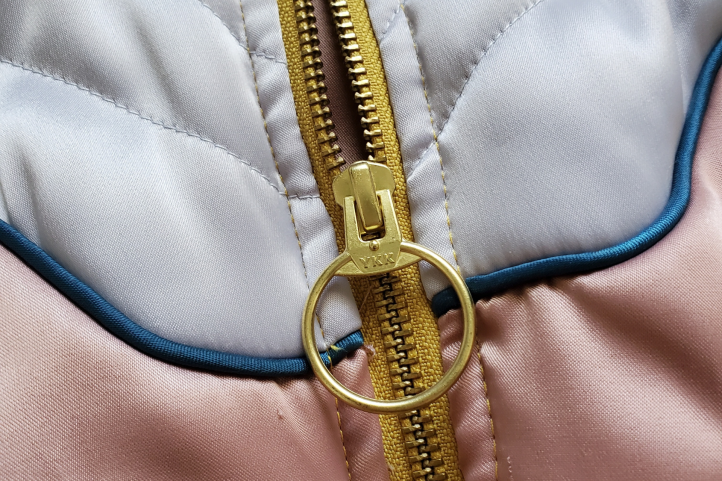 If you're new to sewing, buckle up! We're going to take you on an exciting tour of clothing fasteners that you need to know about. Our handy beginner sewing guide will break down the different types of common fasteners you'll find in clothing, shoes and accessories, so that you can give your sewing projects a perfectly professional finish.
The great thing about clothing fasteners is that there are so many options available to sewists of all skills levels, in bright colors, bold designs and for different purposes, so that you can finish your garments with a touch of flair. From simple buttons to frogging, hook and eyes, and Velcro, you'll learn not only about the different types of fasteners but what type of fastening to pair with specific clothing items, so that you won't have any guesswork when it comes to completing your garments. You'll finish your garments with confidence and style after reading our helpful guide to clothing fasteners.
Common Clothing Fasteners
Buttons – The most common type of clothing fasteners are buttons, which come in infinite numbers of styles, shapes and sizes. Buttons are typically made of wood, plastic, or metal and generally have two or four holes. Other common types of buttons include shank buttons, fabric-covered buttons and stud buttons (commonly found on jeans). Buttons can be added to almost any garment, including outerwear and often come in novelty designs to add an element of fun to your sewing projects. To learn how to sew on a button, don't miss our video tutorial here!

Zippers – After buttons, zippers are the most common type of fastener you'll use in your sewing projects. Available in molded plastic, metal, and coil, zippers can also be used in garments like dresses and outerwear and are made in different sizes and for different functions. Zippers can also be shortened if needed, and can be added to garments for style as well as functionality. You can learn more about the different types of zippers in our article here.

Snaps – Similar to buttons, snaps are metal clothing fasteners that are often found in clothing that faces more heavy-duty wear or that can be taken off and on quickly, such as baby clothes or body suits. As snaps are made of rivets, they can give garments a more industrial look (such as when they're added to bags) or a Western-inspired touch.
Hook and Eye – Hook and eyes feature a metal or plastic hook sewn across a garment's opening from an eye made of thread, elastic, metal or plastic. Hook and eyes are found on lingerie such as bras, as well as dresses, tops and skirts. These clothing fasteners are often paired with zippers as extra reinforcement for closing an opening.
Fabric Ties – Found on clothing like wrap dresses, robes and skirts, as well as kitchen necessities like aprons, fabric ties are added to garments that can easily be adjusted to fit the wearer's body. For more specialty garments like wedding dresses and corsets, you'll often find closures that use ribbon or cording paired with metal or plastic grommets or eyelets.
Specialty Clothing Fasteners
Velcro – Velcro closures are found on garments that need to be easily opened and closed, which is why they are commonly found on children's clothing, shoes and outerwear. Velcro is also referred to as hook and loop tape and is sold in rolls or short patches that can be sewn on.
Buckles – Buckles are often made from plastic or metal and can be found on outerwear, dresses, belts and shoes. Some buckles are purely decorative (such as those found on some shoes), but most can be threaded through to close a garment. Buckles can feature a tongue that is inserted into eyelets, which brings us to our next type of clothing fasteners.

Eyelets and Grommets – Grommets and eyelets are fasteners that can be made of metal or plastic and are designed to reinforce holes in fabric. In general, eyelets are smaller and tend to be made for more delicate clothing items, while grommets are more heavy-duty and are made for sturdier fabric. These clothing fasteners can be closed with ribbon, cording or other fabric ties and are found on lingerie, shoes and some clothing items.

Toggles – Toggles are typically found on outerwear and feature plastic or wooden toggles that are pulled through loops to close a garment. Toggles can give garments a charming vintage-inspired or nautical look, so they're great for adding a bit of personality to your garments.
Frog Closures – Frog closures or frogging are a type of clothing fastener found in Eastern clothing, typically on outerwear such as coats or other garments like shirts or dresses. These decorative closures are made of braided cord and feature a button and loop to close the garment. These clothing fasteners can be made of different materials including silk.
We hope you've enjoyed your journey through the world of clothing fasteners. Be sure to explore your local sewing shop to find even more specialty fasteners to pair up with your next sewing project. What types of fasteners do you use most often? Let us know below in the comments!