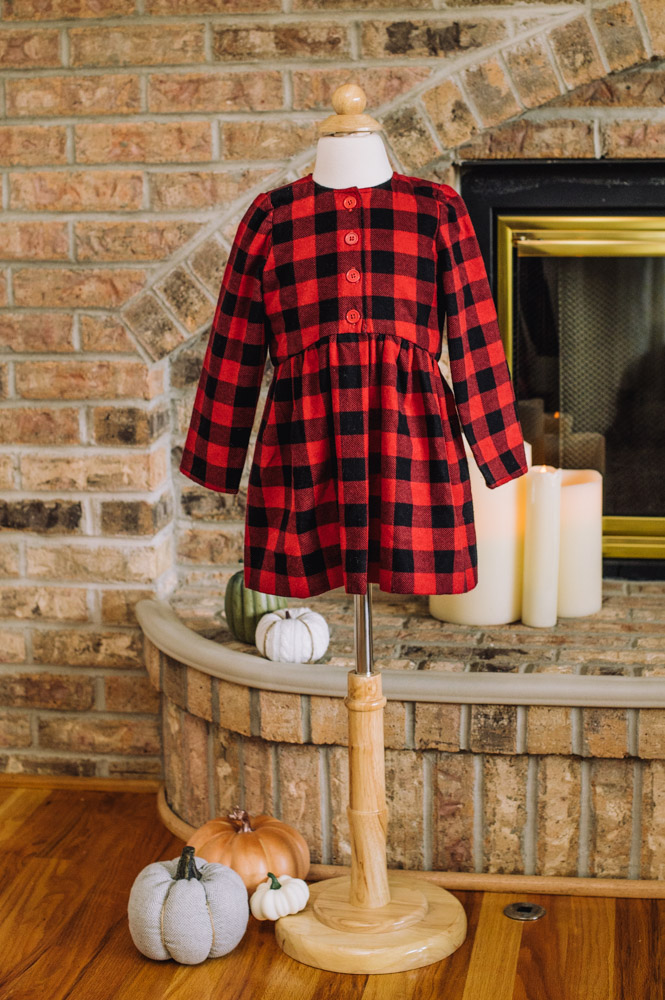 Dress your daughter for the holiday season in a darling frock that's both comfortable and stylish. Designed for babies and toddlers, this dress pattern for girls can be made in lighter weight fabrics like chambray or gingham for warm fall days or a slightly heavier cotton in winter prints like buffalo plaid for Christmas. Including an adorable front button detail, this dress also features long sleeves and gathered stitches at the waist, and pairs perfectly with leggings and tights for cooler weather. Make your little one stand out in holiday photos with this fabulous dress pattern!
Materials: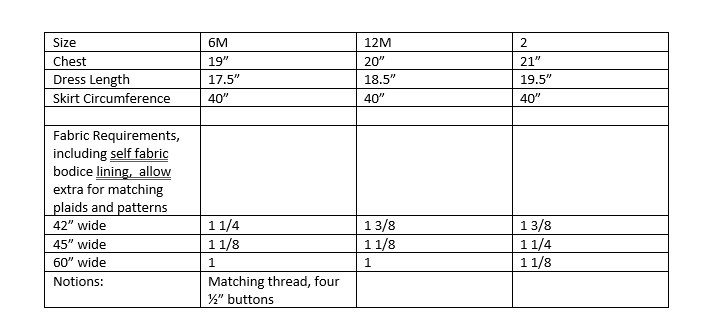 The PDF pattern is located at the bottom of this page. *Note: Please download this pattern as a PDF to your device, save, and open using Adobe Acrobat. In Adobe Acrobat, please select the layers option on the left side of the page to choose your pattern size.
Designer Notes:
For all layouts, fold fabric in half with selvages meeting on top of layout.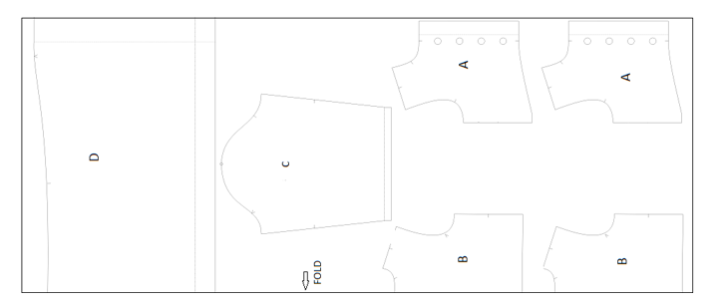 Cutting Layout for 42" wide fabric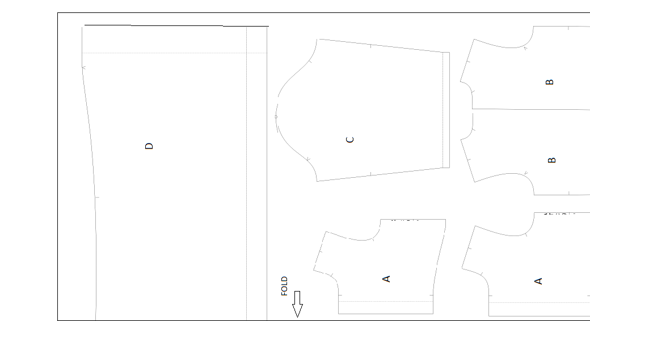 Cutting Layout for 45" wide fabric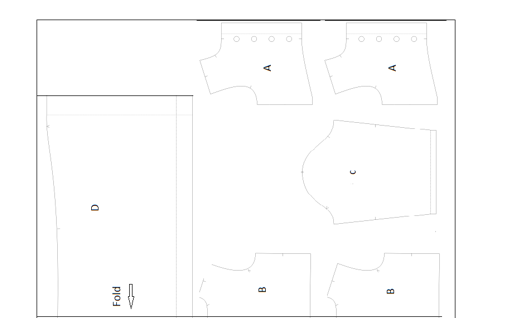 Cutting Layout for 58" wide fabric
Instructions:
BODICE:
Stay stitch neck edges.  All seam allowances are 5/8" EXCEPT for bodice front center seam which is 1". This allows more fabric layers to stabilize the front button placket. The bodice front and back are fully lined. With right sides together, sew the bodice front and back at the shoulder seams and side seams.  Do the same for the lining pieces.  Press open seams.
With the completed bodice fashion fabric and lining right sides together, sew the button placket front/around the neck/button placket front together. Trim seam allowances, but not the seams at CF.  Turn right side out and press.
SKIRT & BODICE:
Sew skirt seam, leaving the top 3" open. Baste the pleat on the right side by matching the circles and following the arrow direction.  Press seam open.  Stitch 1/8" away from the pressed seam around the opening.  Sew 2 rows of gathering stitches on the skirt waist, gathering to fit the corresponding notches in the bodice.  Match the triangle notches of the skirt to the bodice side seams. Sandwich the skirt waist between the bodice lining and fashion fabric and sew the skirt to the fabric most of the way.  Sew the remainder of the seam by going through one of the armhole openings in the bodice.  Top stitch around the bodice neck opening and front placket 1/4" from edge. Hem skirt.
SLEEVES:
Sew seams of both sleeves. Sew row of gathering stitches between the line and triangle notches. Matching line and triangle notches right sides together, sew to bodice armhole. Hem sleeves by folding 1/4" and pressing. Fold another 1/4"  and press, then stitch hem in place.
Make 4 buttonholes on the right side of the bodice. Sew four 1/2" buttons to the left side of the bodice.
---
Gold Members, Download Here
Not a gold member yet? Join Now