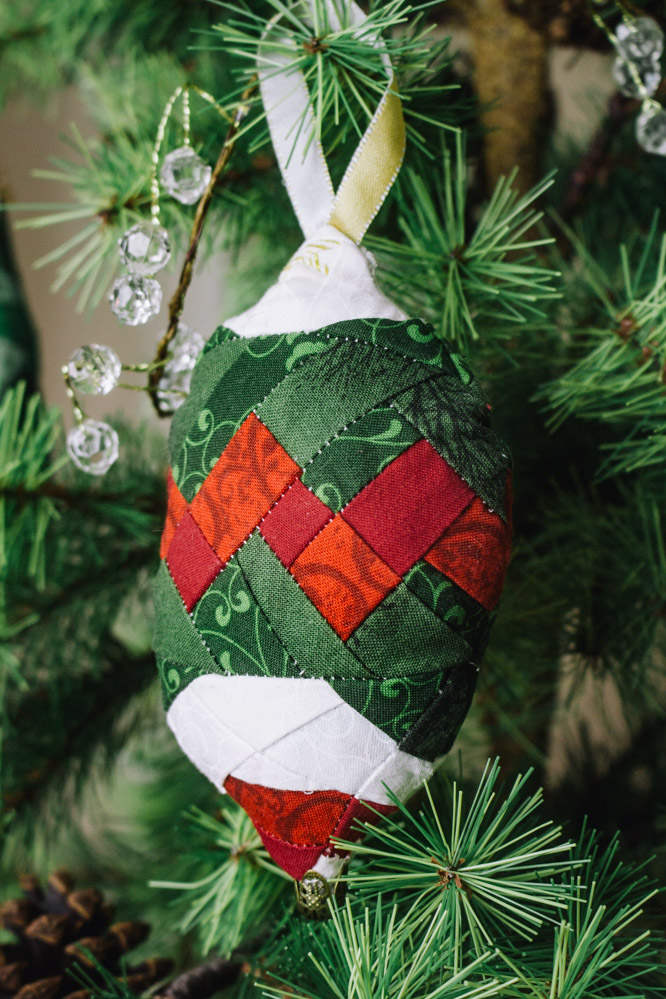 Put your paper piecing skills to the test by designing a classic Christmas ornament to adorn your tree.  Made with fat quarters in traditional holiday colors, this sewn ornament project is inspired by fun 3D ornaments and uses paper piecing to create its intricate design. This holiday project is recommended for medium to advanced level sewists and quilters. So, if you love learning new skills and challenging yourself, this is the perfect project for you. Add a lovely handmade touch to your Christmas tree with these elegant Christmas baubles!
Materials:
PDF Templates –

These are located at the bottom of this page. See printing instructions below.

For a limited time, you can download this pattern for free by clicking here. PDFs are usually reserved for our Gold Members only. 
PDF #1:  Diagram of colors
PDF #2:  Diagram of piecing
PDF #3-4:  Piecing sections A – U
PDF #5:  Template for cutting bauble shape

Metal bell-cap jewelry finding (optional) for bottom of bauble
White thread
Hand sewing needle
10 inches of gold ribbon
Fabric Requirements:
1/2 fat quarter of:
1/4 fat quarter of gold
PRINTING INSTRUCTIONS:
To download the PDF templates, click on the download button at the bottom of the page. We recommend opening your download using Adobe Acrobat.
For a limited time, you can download this pattern for free by clicking here. PDFs are usually reserved for our Gold Members only. 
Sewing Instructions:
Designer Notes:
1/4" seam with small stitch 2.0mm (13 stitches per inch)
Pinning the paper pieces to the fabric and to each other when sewing increases accuracy.
You must follow steps 4-9 twice to make 2 sides for a 3-D bauble.
Using sticky labels or paper and pins, label all fabrics by number 1-6 using PDF #1.
Print PDF #3 and #4 twice and cut out the paper piecing shapes, keeping each copy separate. These shapes are mirror images of the finished piece because they are placed on the wrong side of the fabric.
Print PDF #2 as a reference to assist with piecing the bauble.


PAPER PIECING HINTS:


– Always start with Section 1 on the labeled pieces in alphabet groups (A-U)
– The first section needs to be slightly bigger that the shape and the paper is placed face up on the wrong side of the fabric.
– Attach each additional numbered piece (e.g. A2 added to A1) by placing the fabric right sides together so that the edge of the new fabric extends at least 1/4″ over the line that borders the sections (e.g. the line between A1 and A2).
– Sew on the top of the paper along the line through 3 three layers (paper, both fabric pieces).
– Fold over to cover the paper shape and press with steam.
– Continue attaching the pieces in the same way.
– Trim each piece around the outside dotted line using scissors or rotary cutter.
– When joining pieces, place right sides together, matching seams and sew along line.  Press open – using steam.
– Remember, you will always be making a mirror image of what you see in the piecing diagram.

Cut pieces A1, B1, C1, and D1 and set aside.
Create Set One:

Join F1 to F2, F3, F4 and F5 and join U1 to U2.
Join U to F.

Create Set Two:

Join S1 to S2 to S3, join T1 to T2 and join Q1 to Q2.
Join S set to T set.  Join T set to Q set.
Join S/T/Q to R1.
Join M1 to M2.
Join S/T/Q to M.
Join K1 to K2 to K3 and join K set to M/Q/R.
Join H1 to K/M.
Join I1 to I2, Join E1 to E2 to E3 and G1 to G2.
Join I/G to H/K.

Create Set Three:

Join L1 to L2 to L3 to L4, Join J 1 to J2 to J3, Join N1 to N2 to N3 to N4 and Join O1 to O2 to O3.
Join set J to set N to set O.
Join L to set N/O.
Join P1 to P2.
Join P set to J/N/O.

Join Set Three to Set Two and Join Set Two/Three to Set One.
Complete the following:

Sew A1 to J/N/L (bottom).
Sew B1 to J/P/I/E/U (left side).
Sew C1 to U/F (top).
Sew D1 to L/S/R/F (right side).
Note: There is no need to sew the diagonal corner lines of the borders as these will be trimmed away.

Create a second bauble using PDFs #2, #3, and #4.
Press each side of the bauble, wet with water using a spray bottle, and remove paper from back using a pin or stitch ripper. When you have removed MOST of the paper, press with steam.
Using PDF #5, matching the colors carefully, cut each side into the bauble shape.
Cut a 10" piece of gold ribbon. Place one side of the bauble right side up. Pin the ribbon with the loop down and the ends crossed at the top. Place the other half of the bauble right sides together. Pin the bauble so the colors match. Sew using a 1/4" seam starting at one side – leaving a space for stuffing. Turn the bauble right side out – use a crochet hook to push out the edges. Stuff (I used the inside of an old pillow but you can buy stuffing). Hand-sew the opening closed using a blind stitch.  Attach the bell-cap jewelry finding to the tip.  Press against the seams to make the bauble rounded.
---
Gold Members, Download Here
Not a gold member yet? Join Now