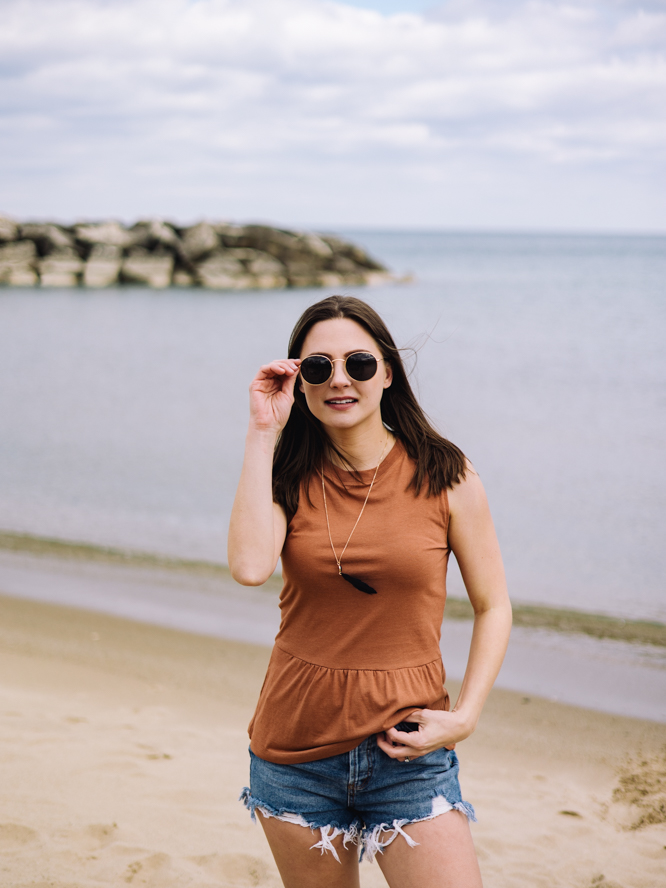 A plain tee becomes a casual chic peplum blouse with this easy upcycling tutorial. Designed with beginner sewists in mind, this refashioning project can be made in a single afternoon and shows you how to transform a short-sleeve t-shirt into a sleeveless tank top. The focal point of this project is the peplum waist, which hits at the wearer's natural waistline, to create a fun and figure-flattering detail. Hit up your closet to find the perfect tee to makeover today!
Skill Level: Beginner
Materials:
Short-sleeve t-shirt
Basic sewing notions
Designer Notes:
Picking the right t-shirt for conversion: The t-shirt should be fitted, no more than 4" wider than the chest measurement and somewhat loose around the hips so the peplum can flare.  The t-shirt should be at least hip length.
The sample t-shirt is 38" at the bust and 42" at the hips, with a length of about 26" from the high shoulder point. The finished peplum bust size is 34" with no ease.  Sleeveless tops need to be snug at the bust so there is no gap at the underarm. The finished measurement at the chest should be the same size as the wearer.
Instructions:
Cut the sleeves off, then cut off the t-shirt at about 17" from the highest point of the shoulder. The peplum should be at least 7" in length. If the wearer is tall, make the top longer (about 18-19"), but the t-shirt needs to be longer.

Fold the cut t-shirt in half.  Take the finished required bust measurements and divide by 4 (see table below).  Make the waist 1 1/4" smaller.  (See Figure 2) Mark and cut a diagonal line through all 4 layers. (Note: Please keep in mind with the below chart and waist measurements, there is no seam allowance added in. So, for example, a 32" chest will actually be smaller once sewn, depending how much seam allowance you use.)

The shoulders need to be narrower since the peplum will be sleeveless. Mark about 1" in from the shoulder edge and draw a line to match the armholes and cut through all 4 layers (Note: The picture shows 1/2″ and it turned out not to be enough. The designer then had to cut it again).


Sew sides of shirt and peplum with a 1/4" seam. Fold the raw edge along both armholes 1/4″ and sew a narrow hem. Baste stitch along top edge of peplum all around, leaving long thread tails. Then pull long thread (make sure to pull the bobbin thread only) to distribute and gather edge of peplum all around. Pin and fit to the bottom of bodice, matching side seams.

Sew the top and peplum together with a 1/4" seam.  Clip thread and Voilà!