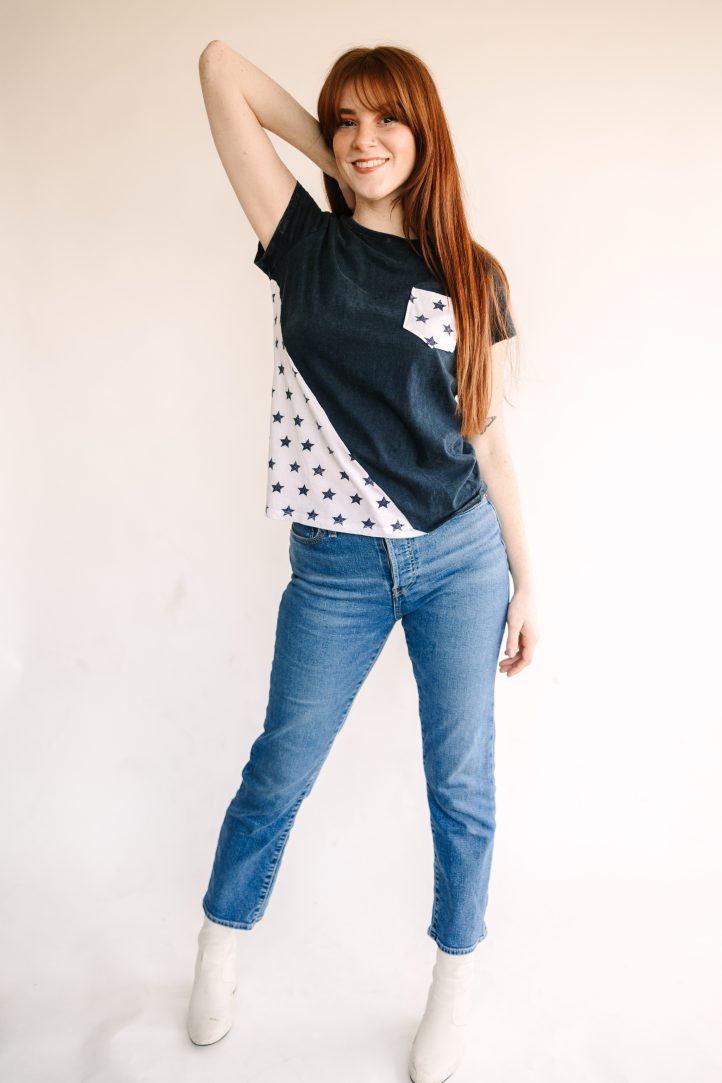 Two old tees become one brand new top with this summery upcycling project. This t-shirt refashioning tutorial is perfect for yard sale season and is a fun project to turn thrifty finds into a trendy asymmetrical tee. Perfect for playing with pattern and color mixing, this beginner friendly sewing pattern only takes a few hours to make and is a great way for beginners to practice sewing knit fabric. Finished with a patch pocket, this spring sewing project is next on our to-make list.
Skill Level: Beginner
Time: 1-2 hours
Seam Allowances: 3/8"
Materials:
2 knit t-shirts of similar weight/fabric content/size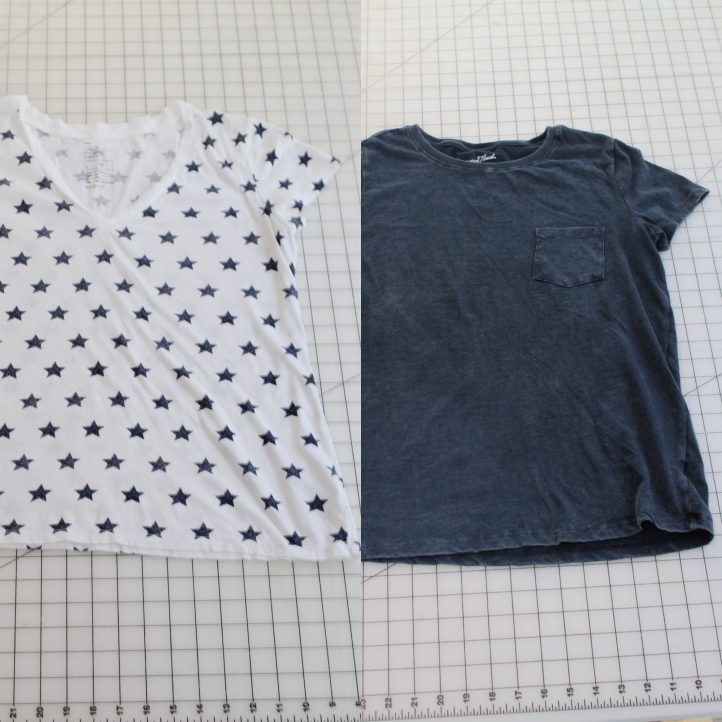 Tools:
Clips or pins

Pattern weights

Hand sewing needle and thread

Iron

Sewing machine

Scissors

Rotary cutter

Quilt ruler

Ballpoint needles

Seam ripper
Instructions:
Line up both shirts by the neckline and armpit as closely as possible. Pin the side that will be cut along and put pattern weights, smoothing out the rest of the fabric. Use the quilt ruler to slice a geometric line across both shirts at the same time, assuring they will line up when swapped.


Turn the accent piece right sides together with the base t-shirt and pin. Use a basting stitch (as long as possible) and sew them together from the front hem to the underarm, then down to the back hem. Check for alignment, adjust as needed, and then sew again; a 3/8" seam allowance will make it easy to catch both feed dogs and not have the fabric sucked down while sewing. Press this seam to the dark side.


Seam rip the pocket off the other t-shirt, and use it as a template to cut a new one, making sure to account for the hem at the top and seam allowance around the three edges of the pocket edges. Recreate it on the new fabric, and sew on.


If desired, hand-stitch the tail of the accent piece, just going through the bottom layer of the original shirt's hem. This will tack it down and keep it from flopping around; or you can top stitch the entire seam for a more defined look.