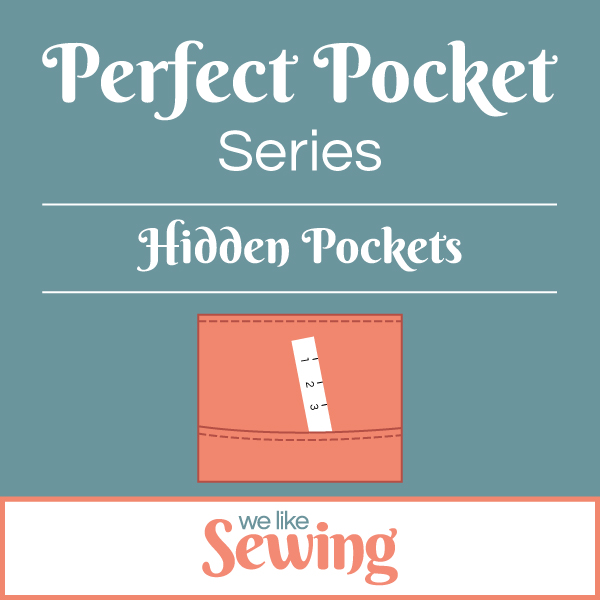 We're wrapping up our Perfect Pocket series by delving into how to add hidden pockets to clothing like pants and skirts. Hidden pockets are perfect for carrying small items like lip balm or cash and fit into the seams of your sewing project. These pockets are a wonderful project for beginner sewists, as the process of adding hidden pockets teaches you several basic skills in one project.  Conquer the art of creating handy pockets with this step-by-step sewing tutorial.
Materials:
Bottom article of clothing such as pants, shorts, or skirt with a sewn-in waistband
Thin fabric (to reduce bulk)
Pattern
Thread
Two small buttons
Note: Choose thread and fabric that match garment (here contrasting colors are used for ease of learning)
Instructions:
Download PDF and print. Cut pattern piece with paper cutting scissors.
Tip: Always keep one pair of scissors for cutting fabrics only!
Pin pattern to 1 layer of fabric and cut along the outer line.
Mark buttonhole placement and the fold line using chalk or fabric marking pen.

Sew or make buttonholes in fabric by using your sewing machine's buttonhole making feature (most modern machines have this) or stitching rectangles with a tight zigzag stitch slightly longer than the buttons to be used, shown in red thread.

Finish edges of the fabric with an overlock, or zigzag, stitch, to prevent unraveling and reduce bulk.

Fold up pocket at fold line stitch up both sides. Place pocket inside garment at desired area. Using chalk or any marking tool, indicate button placement. Sew on two buttons.
Tip: Use the same color fabric and thread to make pockets inconspicuous.

Attach pocket.
Tip: Make your new pocket versatile by sewing two buttons in other articles of clothing and attach and remove the new secret bag to several outfits.
---
Gold Members, Download Here
Not a gold member yet? Join Now