Dear Sewing Superstar,
The days may be getting cooler and shorter, but there's still oh-so-much to do outside. Walks in the park. Lunch with friends. Low-key holiday shopping. Be sure to step out in style in your new Highland Cozy Sewn Winter Wrap. This piece is the perfect blend of fashion and function — a classic check design on one side and a super cozy finish on the other.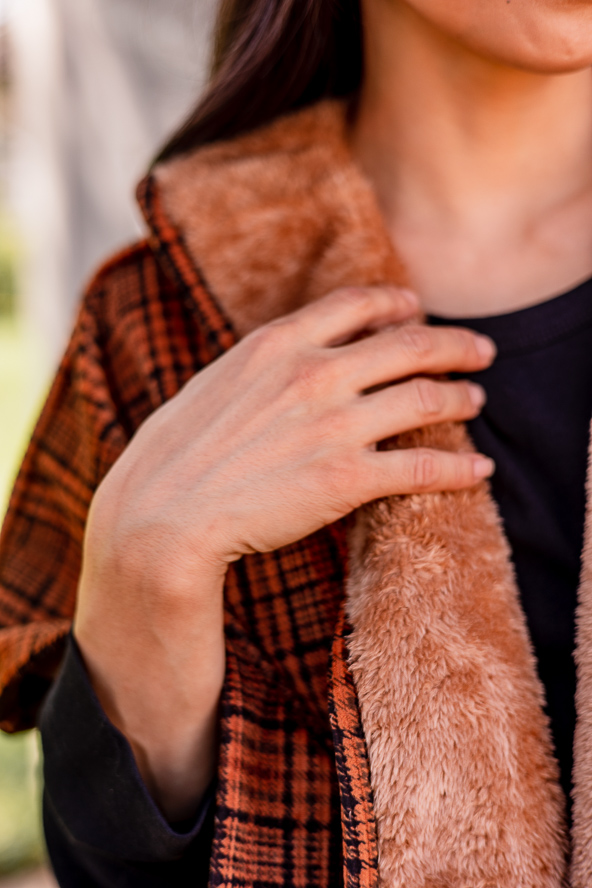 Be ready for whatever the day's weather brings in our Highland Cozy Sewn Winter Wrap. If you've never worked with double-faced fabric, this is a great entry point. When you start thinking about your fabric, think "blanket." That's the sort of weight and drape you want in the end. Choose fabrics that work well together and consider patterns and textures that will give you some variety — a two-in-one wrap!
Plus, you get to choose which type of seam you prefer to use with this project: French, mock flat fell, flat fell, standing fell, or bound. Don't recognize all those seam styles? No worries! This is a terrific project for learning, practice, and turning out a stylish garment!
No expert sewing skills are required to make this beautiful wrap. The printable pattern includes a detailed template, pattern notes, and a complete list of the tools and materials you need to succeed. Get ready to head out stylish and warm!
When you activate your We Like Sewing Gold Club Charter Membership today, you'll get access to everything we have about sewing and quilting—all access, all the time:
Summary of Gold Club Membership Benefits
Description
Your Price
1 Year We Like Sewing Charter Gold Membership
Now only: $59/year!
A full year of We Like Sewing magazine—12 monthly issues packed with gorgeous designer patterns with step-by-step instructions, tutorials, sewing tips and tricks, and expert techniques.
INCLUDED
Full access to the We Like Sewing digital project library, that's instant, complete access to every single printable pattern, tutorial, and video we have ever published!
INCLUDED
Instant access to We Like Sewing Collections–we've created topic specific collections of our favorite projects. You'll find Christmas, Baby, Summer, and more!
INCLUDED
We Like Sewing Videos–watch clear step by step instructions on hand sewing, machine sewing and quilting techniques.
INCLUDED
Instant digital access, so you can take your projects with you anywhere.
INCLUDED
Stunning full-color photographs for quick and easy learning.
INCLUDED
Please act now, while this special offer is still in effect for you!
Happy Sewing!


Caitlin Eaton
Editor, We Like Sewing Magazine
P.S. Imagine having 24/7 access to hundreds of sewing patterns and articles, step-by-step instructions, and video tutorials to help you master any sewing project. All this and more can be yours when you become a Charter Member of the We Like Sewing Gold Club today!