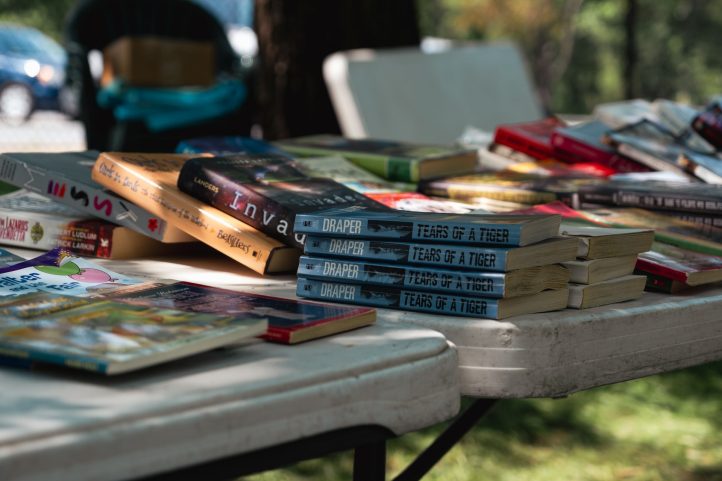 Hello again, thrifty sewists and quilters! We know how much our readers enjoy our Thrifty Sewist's Guide series, which is why we're so excited to share our budget-friendly guide to finding and buying sewing and quilting books. If you love flipping through the glossy pages of a new pattern book but hate spending a fortune or resorting to retailers like Amazon, then our guide is exactly what you need.
Our list of thrifty ways to find sewing and quilting books ranges from free to next-to-nothing, so you can expand your book collection without breaking the bank. From your local library to making the most of garage sale season, our guide to book shopping focuses on using community resources, shopping local, and smart saving. Plus, if you're in the mood to do a bit of splurging, we've also included a way to bypass Amazon and support small businesses. Grab your favorite book bag and hit the pavement to find your next favorite quilting book.
Where to Search and Shop
Your Local Library – This may seem like a no-brainer but your local library is the best resource for finding pattern books for free. You can search for available books using your library's online catalog or use free apps like Libby to borrow eBooks, magazines, and more. All you need is a library card, which are generally free if you're a resident of your library's district or county. What I love most about visiting my local library for sewing and quilting books is seeing related books on similar topics; I can be searching for dressmaking books and discover fun fashion history books I never would have noticed before. Don't forget that you can always ask your library about interlibrary loans if they don't have something you're looking for.

Similarly, a great idea for finding cheap pattern books is to check out your library's annual or semi-annual book sale. Libraries often receive donations throughout the year, so it's not unusual to see a large collection of sewing and quilting books during an annual sale for very low prices. It's a wonderful way to support your local library, so be sure to ask during your next visit. Some libraries in larger cities even have small used bookstores!
Garage Sales and Estate Sales – The end of summer in the Midwest signals the end of garage sale season, so be sure to hit up your local garage sales before fall arrives (unless you're lucky enough to live in an area that can have garage sales year-round). As mentioned in our previous Thrifty Guide article, garage sales and estate sales are an excellent resource for not only low-priced sewing and quilting notions but pattern books as well. If you're located in the US, you can also use estatesales.net to see any upcoming estate sales in your area. On this site, you'll often find descriptions of upcoming sale items, so be sure to check out this site. Which brings us to our next idea…
Church Sales – Church sales are another excellent source for scouting out older or used sewing and quilting books. Similar to garage sales, you'll probably need to sort through tables of odds and ends or stacks of books, but these sales are often treasure troves for crafters. Church sales typically price their items very low or operate on a donation-based payment, where you can donate as much as you like in exchange for your items. Be sure to bring cash and a tote bag to carry your finds home. Help support your community and find some great pattern books at a super low price.
Facebook Marketplace or eBay – You can't rule out shopping online for bargains, which is why we also recommend checking out Facebook Marketplace or eBay for finding sewing and quilting books. Sellers on these sites will often sell bundles of books instead of individual books, so they're a wonderful way to get a great deal on used items. Facebook Marketplace will let you connect with sellers in your area, and you can often pick up your items instead of paying shipping costs. For used book bundles, I would recommend checking out eBay over Etsy, although you can certainly check out both. You'll be more likely to find book bundles on eBay, as Etsy shops typically sell books individually.
Thrift Stores – Who doesn't love a morning trip to Goodwill? If you're on the hunt for vintage patterns, old quilting magazines, or used sewing books, Goodwill or your local thrift store are must-visits. Often, thrift and consignment stores will have different markdown days throughout the week (typically depending on the item's color-coded tag), so you're sure to always find a bargain when you visit. You can also search goodwillbooks.com to see what's available online from Goodwill stores across the US. Just keep in mind that the online prices may be higher than what you would pay in store.
Your Sewing Group or Quilting Guild – Your sewing and quilting pals are also a fantastic resource for sharing pattern books. If you meet in the same location every week or month, encourage your members to bring used books or magazines and start your own mini library. It's a great way to share your resources with like-minded crafters. Another fun project idea is to create your own Little Free Library outside of your meeting place, so that you can share your used sewing, quilting, crafting, and other hobby books with your community; you can find more info at littlefreelibrary.org.

Where to Shop for New Books
If you can't wait to read the latest collection from your favorite quilting designer, but hate buying from retailers like Amazon, consider supporting a local bookstore instead. You can check out your local bookshop or go to bookshop.org, where each purchase helps to financially support independent booksellers. You can find new releases for comparative prices to what you would find on Amazon, while helping to support independent businesses.
We hope you've enjoyed our list of thrifty ways to find sewing and quilting books. Whether you shop used, purchase from independent booksellers, or check out books from your local library, we hope you remember that you can find sewing and quilting materials for affordable prices to fit every budget.
Where do you love to shop for thrifty sewing and quilting finds? Let us know below in the comments!