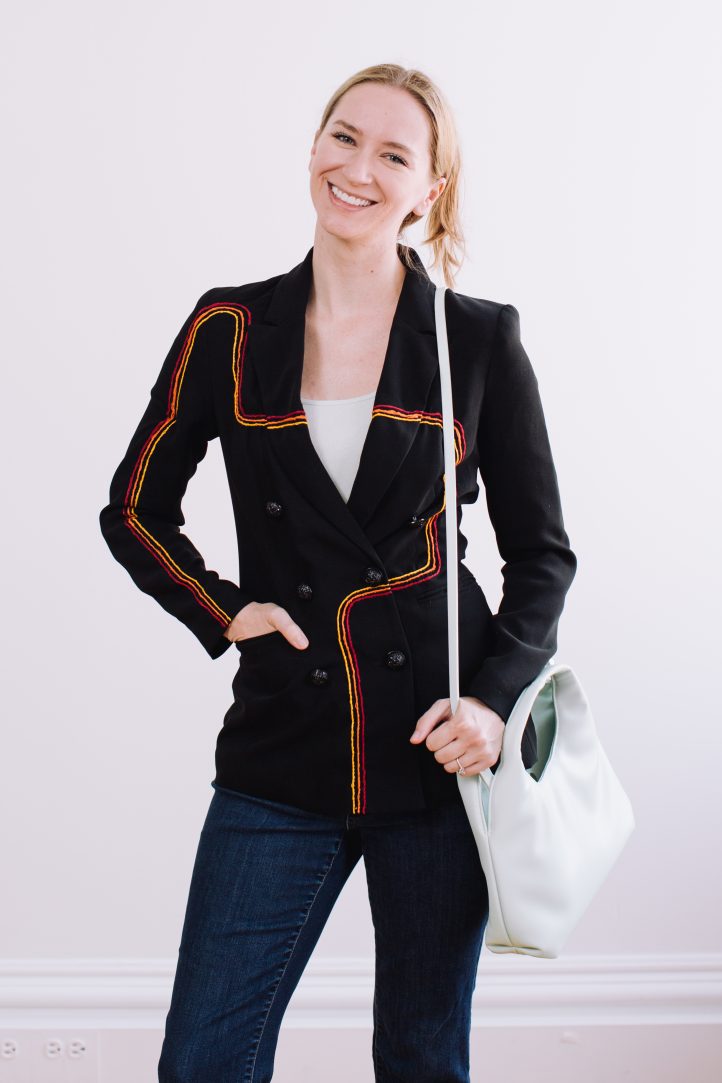 Give a thrift store find a fresh new look with this easy embroidery project. A plain, oversized blazer is given color and movement with this brilliant refashioning idea. Perfect for fall and winter, this blazer refashion uses the classic split stitch to create embroidered lines of shining yellow, red, and orange. If you love the current abstract art movement, then you don't want to miss this fun refashioning project from designer Olu Falola.
Materials:
Blazer

Tailor's chalk or fabric marker

Embroidery thread

Embroidery needle

Scissors
Instructions:
Plan your design on paper or your computer, then draw it out onto your blazer using chalk or a fabric marker. Take into consideration what your design will look like when the blazer is worn open AND fastened closed.

To create a stitch that resembles an outline, a split stitch is an excellent choice of stitch. Thread your needle and secure the other end of your thread with a knot.


Following your chalk guide line, take your needle

up

through the inside of your blazer, then make a stitch approximately 5mm along the line

down through your blazer.



Take the needle back

up through the front half of the stitch that you just created (splitting the thread); this is what gives the stitch its name. Then simply repeat by making another stitch along the guide line on your blazer and so on. Try to avoid stitching through the blazer lining, but it doesn't matter too much if you do so occasionally.




Repeat until finished.

Secure the last stitch with a knot at the back.