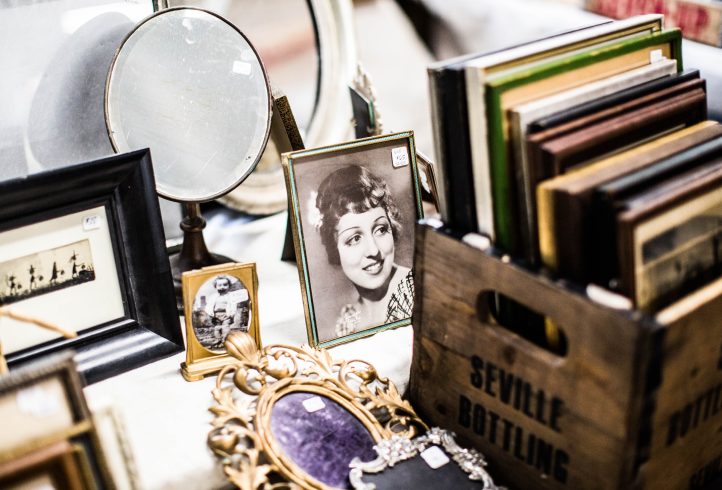 During spring and summer, there's one place you will find me almost every Saturday morning: hitting up my local garage sales. Born out of my love of all things vintage, garage sales are my happy place. Not only are they perfect for finding vintage clothing and retro home décor, they're also a treasure trove for the thrifty sewist. So if you're tired of spending a fortune on fabric or you want to start sewing without dropping a ton of money on a new machine, then our guide to garage sales is just what you need.
Before You Get Started
So much has changed in the past few years, and one of those changes that you might not be aware of is the lack of garage sale postings in the Classifieds section of your printed newspaper. Before you get started, it's best to hit up your local garage sale group on Facebook or to check the Classifieds online. This not only lets you map out the garage sales you want to go to, but allows you to easily keep track of when different sales start and weed out any sales that aren't applicable to your needs.
A few other quick tips:
Have small bills and change handy. I cannot tell you how many times I have gone to pay at a garage sale and only had my debit card on hand.
Make a list. Keep a running list of sewing items you're searching for. It's so easy to get overwhelmed when you're looking at table after table of stuff, so having a list on hand will help keep you on track.
Bring your own bags. Whether using a reusable market tote or personal shopping cart, having something to store your items will keep them safe on the drive home and keep things organized (especially handy if you're in a group).
Now that you're fully prepared to take on a morning's worth of garage sales, let's discuss some fab sewing finds to add to your shopping list!
The Thrifty Sewist's Garage Sale Shopping List
Sewing machines – In my experience, one of the best places to find sewing machines, especially vintage machines, is at garage sales. You can usually find them at an incredibly low price, so if you're new to sewing and don't want to drop major bucks at a chain store, garages sales are a great place to find your first sewing machine. Ask the seller to make sure your machine has all parts before you buy it, and check if the original machine manual is included (you can sometimes find manuals for older models online). Garage sales are hot spots for older machines that are built to last, so if  you're looking for a machine with some longevity, start here!

Embroidery hoops – Whether you're at a garage sale or a thrift store, you are bound to come across piles of embroidery hoops that are priced extremely low. Embroidery hoops are great finds because not only are they perfect for embroidery and cross-stitch work, but you can also use embroidery hoops for other fun crafts and DIYs. I've seen embroidery hoops used in everything from Christmas ornaments to wall organizers to wreaths, so if you love general crafting as much as sewing, stock up on these.
Fabric – As sewists and quilters know, fabric can be very expensive when purchased from retailers, which is why garage sales can be an excellent way to cut down on costs for your next sewing project. I will add that being selective is key here, as you will need to check that the fabric has no holes, rust spots, or stains. You will also need to give your fabric a smell test, as some smells (like cigarette smoke or pet odor) can be very difficult to remove. Be sure to check online guides for how to treat vintage fabric or fabric with hard-to-remove scents. And speaking of fabric …
Upcycled fabric materials – Nothing sparks creativity more than rummage sales, so keep an open mind and an eye out for potential upcycling projects. An outdated prom dress can easily be made into a chic full skirt. A retro tablecloth from the 1970s can become a fun vintage-inspired blouse. The possibilities are endless! One of the hottest trends right now is upcycling vintage sheets (especially floral prints) into boho sundresses or patchwork quilts, making them a hot commodity at garage sales and online sites like Etsy. Old purses can also be excellent sources for hardware for your sewing projects.
Garment closures – Vintage lovers, this one's for you. You can usually find older garment closures at garage sales, including notions like vintage metal zippers, snap closures, and my personal favorite, buttons. There's something so charming about retro buttons in fun colors and shapes! I would recommend looking for vintage sewing kits or sewing baskets and digging around to see what goodies you might find. Plus, be sure to look for vintage trims like non-stretch lace, ribbon, and ric rac.

Sewing patterns – I'm including vintage sewing patterns with a slight caveat: take your time when going through vintage patterns and make sure everything you need is there and that you have the correct size (or that you know how to adjust the pattern if you don't). As retail patterns have also gone up in price, rummage sales are a great option for sewing patterns, especially if you love styles from yesteryear. I've also found so many great non-garment patterns throughout the years, such as cross-stitch, embroidery, and home décor patterns. I also love the idea of framing the packaging of vintage clothing patterns for fab décor for your sewing room.

Quilting books and patterns – My aunt is an avid quilter and has never met a pattern she can't tackle, so I always keep my eye out for old quilt pattern books when it's garage sale season. New quilting books can be pricey, so finding a stack for next-to-nothing is always a huge score. These are also ideal for those who love antique, classic, or wacky quilt patterns, and most come with step-by-step instructions and diagrams. My aunt has an entire shelf of these garage sale finds and is slowly working her way through each one.
OTHER GARAGE SALE FINDS FOR SEWISTS:
Pillows/pillow forms
Semi-completed projects (great for beginners)
Pressing tools
Storage materials (like thread racks)
What to Avoid at Garage Sales
My number one recommendation is to avoid vintage thread. Thread becomes brittle over time and is very likely to break when you sew. While vintage thread spools can make for some charming retro décor, it's not great for practical sewing. I would also recommend avoiding vintage sewing notions or trim that has a lot of stretch that can lose elasticity easily, including bias tape or elastic. If you do buy these notions, pay attention to the packaging to make sure the notion has not incurred any damage over the years.
I would also caution against small pieces of scrap fabric, being sure to give it the smell test and checking for mildew or other potential issues when going through a large fabric pile.
I hope our thrifty guide to garage sales will inspire you to hit up your local online Classifieds this summer. Shopping secondhand, whether for fabric or notions, is a great way to help reduce waste while giving pre-owned items a fresh start. Enjoy spending your weekends searching for thrifted treasures!
What's your favorite item you've ever found at a garage sale? Let us know below in the comments.