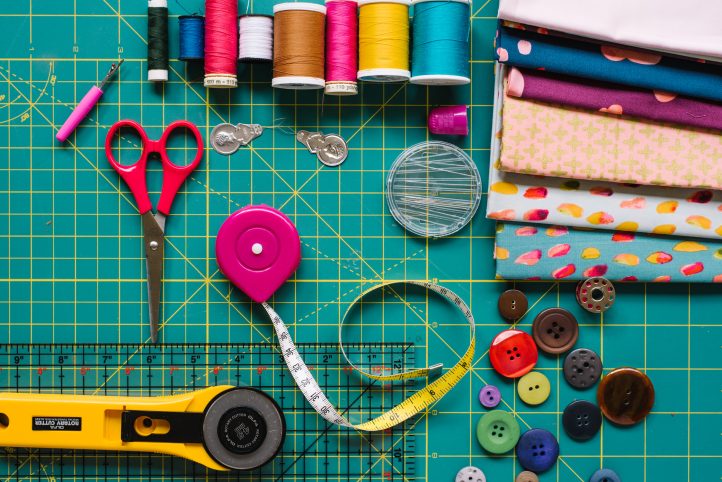 Starting a new hobby like sewing can be intimidating! There are so many questions that spring to mind, which often leads to feeling overwhelmed. However, you don't have to stay in a sewing panic! A great place to start is to understand the basic tools every sewing enthusiast needs to complete a project. From there it's just a matter of picking a pattern and fabric!
A good place to start is to break down the tools you'd find in your run-of-the mill basic sewing kit. These are found everywhere – you can even get one at a hardware store. Below are the tools you'll typically find in one.
Sewing Kit Essentials
Scissors – Not all scissors are made the same! A tiny pair is usually included in a small sewing kit, but you can also find fabric scissors that would work better for specific projects. Similarly, depending on your project, you may want to invest in bent handled scissors, which make the process of cutting large swaths easier. You're fine using a smaller pair of all-purpose shears to start!
Tape Measure – Sewing can become complicated quickly if you haven't measured properly. You don't need a fancy tape measure; a small fabric one is perfect for most projects.
Needles – Usually, basic universal needles are included in most sewing kits, but if you'd like a specific all-purpose needle, We All Sew (in their guide "Basic Sewing Tools for Beginners") suggests you look for size 7 sharp hand-sewing needles. These would work well for most beginner projects.
Needle Threader – Save yourself time AND hassle with a needle threader! This small metal tool inserted into the tip of the needle with the thread allows for you to begin sewing a lot more quickly.
Thimble – This is a necessity if you're primarily hand sewing. These come in a variety of materials, but they'll definitely help prevent your fingertips from becoming sore.
Thread – Although it comes in a wide variety of colors and thicknesses, the type of thread you use is definitely dependent on the work you're completing. If you're just working on mending a pair of pants or working on a simple project, common polyester thread is just right.
Sewing Pins – These help keep fabric in place for sewing, and they can help mark where you are going to be sewing.
Buttons – These are typically included in most basic sewing kits, but the use of them is also entirely dependent on your project. Sewing on a button is not a difficult task and there are plenty of tutorials on how to do so, but it may be unnecessary for your specific sewing needs.
That's a basic sewing kit deconstructed! Now that you're almost an expert, let's move into some more specialized tools you'd find in a larger kit.
Essential Tools for Beginner Sewists
Seam Ripper – Why use this instead of scissors? A seam ripper will make sure the seam is taken out but the fabric is not. As a result, there is a smoother cut with one of these than with a pair of scissors!
Seam Gauge – If you're going to make clothes, this is a must-have! This will help you place hems, buttons, and seams. According to We All Sew in their aforementioned article, the difference between this and a tape measure is that it resembles more of a solid ruler with a central sliding guide.
Fabric Marking Pencils – As their name suggests, these pencils help you mark the places you need to sew. They don't stain your fabric, but they'll help you keep track of the next steps of your project.
Pincushion – If you're not going to be sewing a lot, you won't have to worry about using a pincushion, but these are immensely helpful. They help secure your pins when you're not using them. You could even make your own instead of buying one. There are tons of cute tutorials for them!
Iron – According to We All Sew, you'll need some sort of heat press to press down seams you've made. An iron is a perfectly affordable option for this task, and you most likely already have one. If you are going to heat press, you'll need a firm surface for this, so make sure you also have your trusty ironing board or wool pressing mat!
Choosing a Sewing Machine
I've saved the most complicated item for last. You won't find this tool in a basic sewing kit, and it'll take more time to learn how to use it. It's more expensive than a kit, but you'll be able to sew a lot more quickly and tackle bigger projects with ease.
Sewing Machine – There are plenty of makes and models on the market right now, and there are helpful tutorials online to help you learn how to use one. According to Leslie at The Seasoned Homemaker, in her article "The Best Sewing Supplies for Beginners", the needles are different from those you'd use with hand sewing, so you'd have to follow the specifications of your machine to buy them. Sewing machines do have a lasting quality to them, so if your grandmother has stopped sewing, you could probably use hers!
From basic to more advanced tools, anyone can learn how to sew. Hopefully this list helped take away some of the sting of starting a new hobby like sewing! You're definitely in the right place to start!