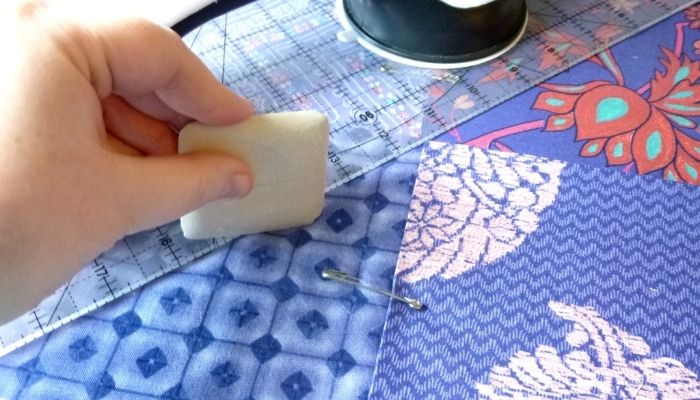 Quilting may seem like an intimidating form of crafting. All the time and dedication that goes into one quilt is nothing to dismiss, but where do you even begin? You'll need to know all the tools you have to have first! Here is a comprehensive list of all of the quilting notions that you'll need as you begin your journey into quilting!
Must-Have Quilting Tools for Beginners
Sewing Machine – The best tool to have in your arsenal for quilting is a dependable sewing machine. It will help you stitch faster and more accurately, and it will save your hands from becoming too sore. Alongside the sewing machine, you'll need needles specifically marketed as sewing machine needles.
Walking Foot – According to the article "The 16 Necesssary Tools for Beginner Quilters" on Crafts Selection, you'll need a walking foot that'll hold your fabric as you're stitching to make sure the stitches end up straight. This will be immensely helpful for all of your quilting endeavors.
Needles – If you're going to hand sew portions of a quilt, you'll need a couple of different types of needles. According to Crafts Selection, you'll need shorter "betweens," "sharps," and long "straws." Each of these are used in different ways to make sure you're completing the quilt effectively. If you're going to hand sew, it may also be wise to purchase a needle threader. Save your eyes from strain and make the process go a lot faster with one of these!
Thread – Thread is entirely dependent on your project. According to "Our Favorite Quilting Notions that Every Quilter Should Have" by Sherri McConnell on Craftsy, quilters typically use 50-weight cotton or poly-blend thread for basic piecing. They also acknowledge that other varieties are used for decorative stitching, so follow your pattern closely for the thread you need.
Acrylic Ruler – Measurements are the backbone of quilting projects, so you'll need a clear acrylic ruler just for this. If you purchase a clear one, you're guaranteed more accurate measurements because you see specifically what area needs to be measured.
Fabric Shears – These are scissors that are specifically designed for cutting fabric well. They're easier to maneuver for your projects, and they make a cleaner cut.
Regular Scissors – If you're working on a project that doesn't require as much material, regular scissors are helpful. It's always good to have them on hand in a pinch!
Seam Rippers – These are not just for quilting projects! They'll help you take out stitches you may have mistakenly placed, and they'll protect the fabric as you do it.
Rotary Cutter – These, unlike fabric shears or regular scissors, are so helpful when cutting through multiple layers of fabric, according to Craftsy. You don't have to worry about any tearing of the fibers with this cutting tool.
Cutting Mat – If you're going to use a rotary cutter, you'll need a cutting mat underneath it to protect your surfaces. The good news is that these come in a variety of sizes and textures, and most of them even have measurements printed on them to help with your cutting.
Pins – If you need to mark the spaces you're going to stitch, or you just need to keep fabric together, you'll need pins. Alongside these, it may be wise to purchase or make a pincushion to keep them together.
Clips – A great way to keep fabric together as you're stitching, they serve the same purpose as pins without piercing the fibers. These are great to use if you need to hold thicker fabrics together.
Adhesive Spray – When you need to baste a quilt together, which is the process of introducing batting to make the quilt thicker, adhesive spray is a super easy method to use. Adhesive sprays come in a variety of brands, so it's important to do some research to find one that works great for your specific project. According to "Top 10 Quilting Tools for Beginners" on Alanda Craft, adhesive spray can also be used in place of pins.
Iron – As with sewing, irons are important for pressing seams and stitches. According to Leslie from The Seasoned Homemaker, in her article "Beginner Quilting Supplies: Everything You Need to Start Quilting", your iron should be able to get really hot and have a steam function. You'll also need an ironing board or wool pressing mat to protect your surfaces as you work.
Quilting Gloves – If you'd like to make the process even easier for yourself, invest in some quilting gloves! According to Crafts Selection, these help improve your grip and slide around the fabric more easily. Plus, you'll look like a total pro!
Now that you have a shopping list for quilting, you can start checking tools off this list to make sure you're ready to go! This article is a helpful reference material for further research into the tools needed for quilting. However you decide to use it, quilt with confidence with the knowledge that comes with knowing which tools to use!
What is your favorite quilting tool? Let us know below in the comments!