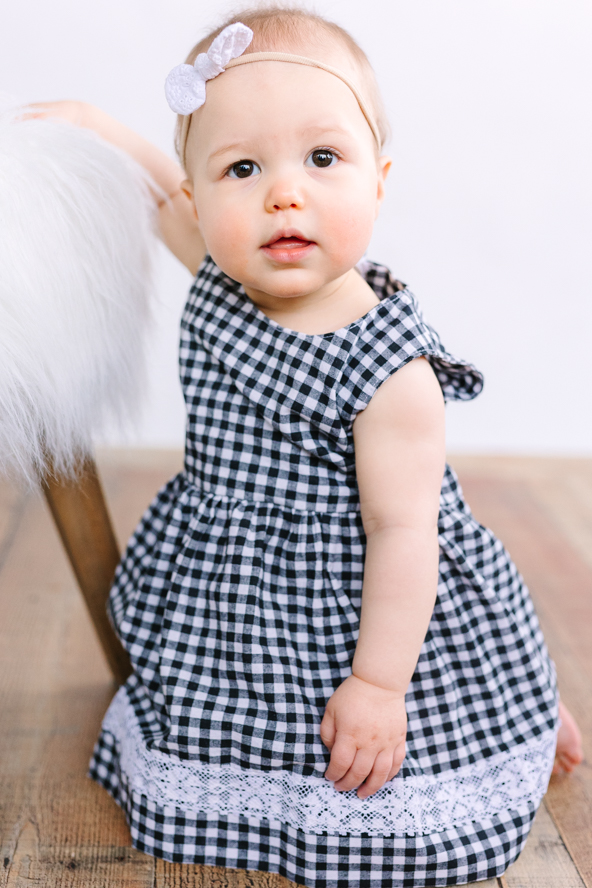 No pattern says "spring is here!" quite like gingham. Design a classic baby dress in chic black and white gingham with this easy sewing pattern. This baby dress pattern features a simple silhouette with a back zipper and can be trimmed in ribbon or lace. A perfect option for Easter Sunday, this spring dress pattern also has a fully lined bodice and is available in three sizes (3, 6, and 12 months). Make your grandbaby a brand new dress to welcome springtime with this adorable baby dress pattern.
Measurement Chart (Including Materials Needed):


Note: You will also need to print off the PDF pattern. This is found at the bottom of the page. Please see printing instructions below.
PRINTING INSTRUCTIONS:
To download this pattern, click on the pattern download button at the bottom of the page. We recommend opening your pattern download using Adobe Acrobat.
DESIGNER NOTES:
This pattern is for a simple sleeveless dress with zipper back.  The bodice front and back are fully lined.  You have the option to use fashion fabric for lining or a different lining fabric. 3/8 yard of lining required if using separate fabric. Optional 1 1/4 yard lace trim.
Cutting Instructions:
For the skirt, cut a rectangle, 41 1/4" wide, 10 1/2" length for size 3M, 11 1/2" for 6M and 12 1/2" for size 12M.  Fig. 1 below is the 45" cutting layout and Fig 2 is 54" and wider cutting layout (see layout images below).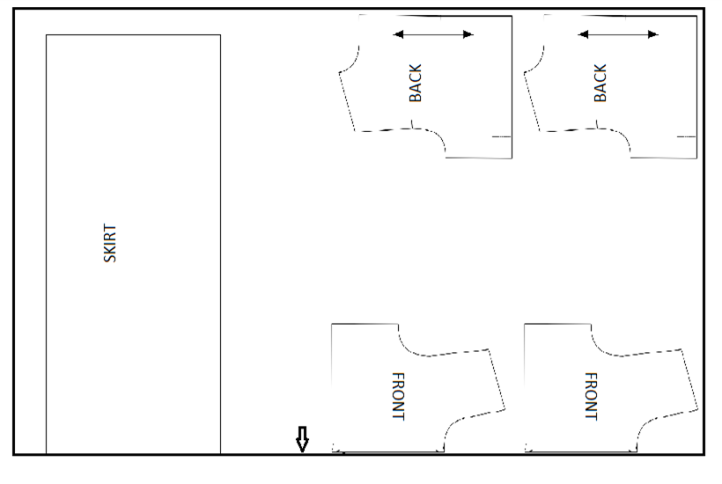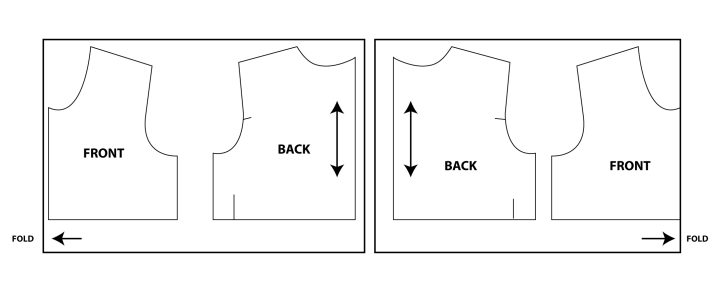 Sewing Instructions:
Notch the center of the rectangle on long edge of skirt piece; this notch lines up with the center front of the bodice.  Cut 2 notches 10" away in either direction from the center. These line up with the side seams of the bodice (see pins below the top ruler in the photo below).


BODICE:
All seam allowances are 5/8".  Stay stitch 1/2" front edge on neck and armhole edges.

With right sides together, sew the bodice front and back at the shoulder seams for both the lining and the fashion fabric.  Press seams open.  Pin the lining and fashion fabric bodices right sides together and sew the armhole seams together.  Leave 1 1/4" (2 seam allowances) at the beginning and end of the neck seam (see the arrows in the photo below), unsewn for zipper insertion. Clip curves and trim seams, then turn the bodice right side out and press.


Turn right side out and press.


Pin side seams right side of fabrics together, and sew side seams.


SKIRT AND BODICE:
Sew a row of gathering stitches at the top of the skirt (do not gather the beginning and ending 1 1/4" to allow ungathered section for zipper insertion.) This is also the time to sew optional trim to the skirt.  The trim is positioned 4" from the cut lower edge. (2" hem allowed.)


Sew the skirt to the bodice (outer bodice), matching notches per instructions for cutting skirt.


ZIPPER:
Insert zipper type of your choice.  For standard zippers, sew skirt seam from hem up to length of zipper.  For invisible zippers, sew skirt seam after zipper application.  Follow package instruction for zipper insertion.

FINISHING:
Press bodice lining 5/8" all around, hand tack to outer bodice.  Hem skirt 2" or to desired length.


---
Gold Members, Download Here
Not a gold member yet? Join Now