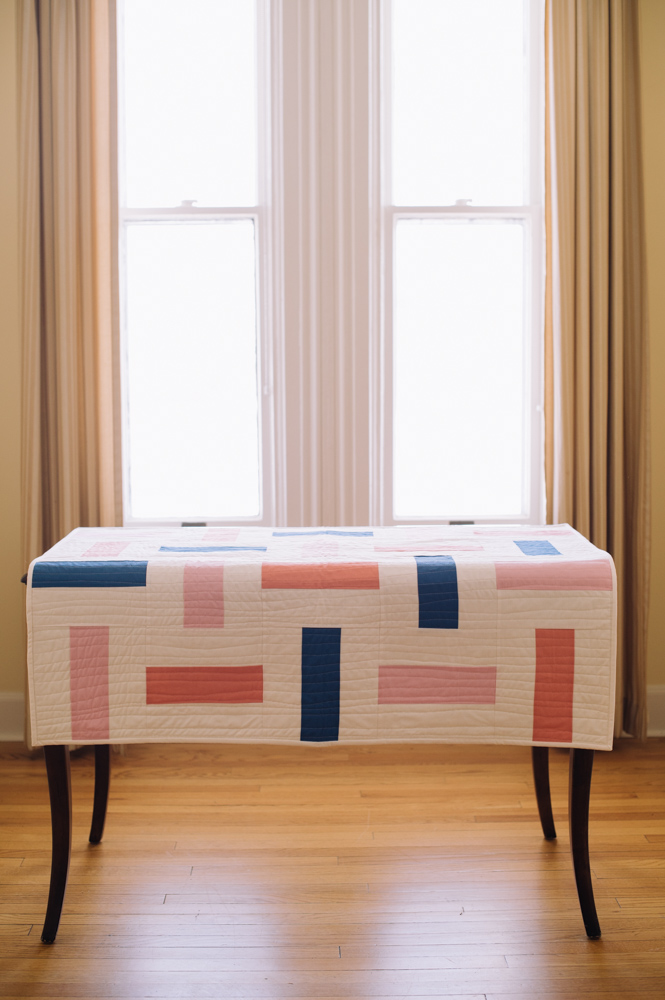 If fussy details and cutesy prints aren't really your thing, then you're in exactly the right place. We're obsessed with the sophisticated and simple design of this modern rail fence baby quilt. A dreamy gift for the mom-to-be in your life, this baby quilt pattern features the classic rail fence design, making it an excellent choice for beginner quilters. This baby quilt pattern is also precut friendly and can be made using fat quarters as well!
Finished Size: 36" x 45"
Block Size: 9.5" unfinished, 9" finished
Materials:
1 yard background fabric
1/4 yard navy fabric
1/4 yard coral fabric
1/4 yard pink fabric
1/2 yard binding fabric
2 1/2 yards backing fabric
PDF layout – This is located at the bottom of this page.
Note: Seam allowance is 1/4″.
Cutting Instructions:
From the background fabric:

Cut (10) 3 1/2" x width of fabric strips. Subcut into (40) 3 1/2" x 9 1/2" strips.

From the navy, coral, and pink fabrics:

Cut (2) 3 1/2" x width of fabric strips (if using a long quarter yard cut) or cut (4) 3 1/2" x 22" strips (if using a fat quarter).

Subcut (6) 3 1/2" x 9 1/2" navy strips.
Subcut (7) 3 1/2" x 9 1/2" coral strips.
Subcut (7) 3 1/2" x 9 1/2" pink strips.
Piecing Instructions:
BLOCK ASSEMBLY:
With the long edges aligned, place one navy strip between two background strips. Sew the strips together with right sides. Press the seams toward the navy strip. Make 6 navy stripe blocks.

Repeat step 1 with the coral and pink fabrics. Make 7 coral stripe blocks and 7 pink stripe blocks.
 
QUILT ASSEMBLY:
Arrange the 20 stripe blocks as shown in the quilt layout diagram, paying special attention to the direction each block is turned.

Sew together the blocks in each row. Press the seams to one side, alternating with the direction of each row.
Sew together the rows to make the quilt top. Press.
Make a quilt sandwich from the quilt top, batting, and backing fabric. Baste and quilt as desired, and then bind the quilt.
---
Gold Members, Download Here
Not a gold member yet? Join Now