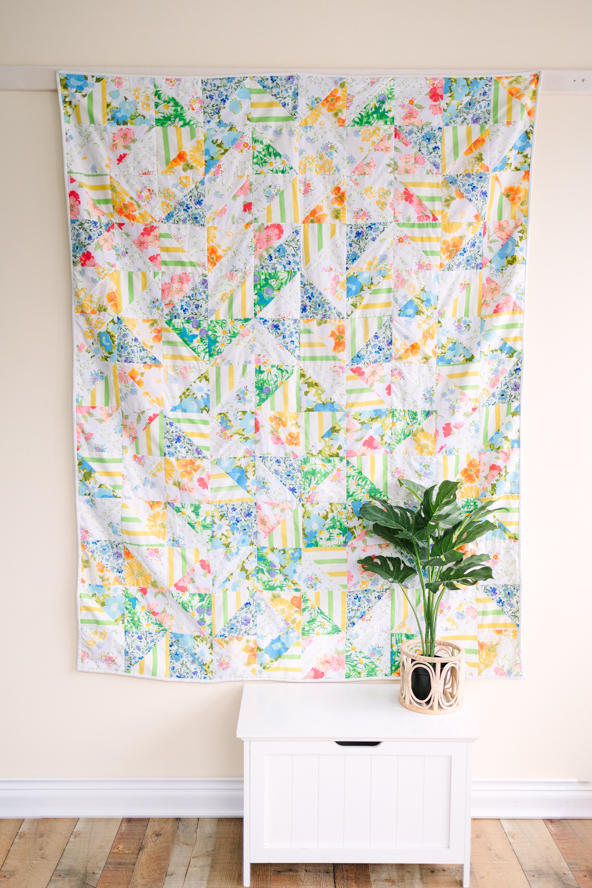 Design a beautiful floral spring quilt without spending a fortune on fabric! Designer Stephanie Woodson shows you how to play with print placement with this beautiful spring throw quilt. This quilt pattern uses upcycled sheets with stripes and floral motifs to create an eye-catching design in spring pastels and brights. Beginner quilters will love this budget-friendly pattern that's full of life and color for springtime.
Skill Level: Beginner
Time: 50-60 hours
Finished Size: 53" wide X 68" tall
Seam Allowances: 1/4"
Materials:
An assortment of vintage floral and striped pillowcases or sheets – in this quilt, there was 1 stripe used with 9 different florals

Light colored twin cotton sheet used as backing and binding fabric

Light colored twin cotton sheet used as batting
Tools:
Walking foot

Iron

Marking utensil

Quarter Inch seam marker (optional but useful)

Safety pins

Sewing machine

Scissors

Rotary cutter

6 1/2" square ruler
Instructions:
CUTTING:
Cut 130 6 1/25" squares – This quilt used 24 striped squares & roughly 12 of each print (not all were used in the final product).



Cut cotton fabric binding: 2 1/4" wide x 260" long.

Cut cotton fabric batting & backing: roughly 60″ wide X 75″ tall.
PIECING:
Lay different print fabric squares right sides together and line them up. Use your seam marker and draw out two lines 1/4" away from the diagonal center line; pin to keep in line.



Sew along each line that you drew and use your rotary cutter to then slice down the diagonal center line. Take out the pins and press seams open.

Trim squares to 5 3/4" and press.



Assemble squares in a random fashion, taking a photo of the arrangement. Then sew together in rows and then sew the rows together.
FINISHING:
Sandwich the quilt top with the batting sheet in between and backing sheet wrong sides together, pin. Square up the top and quilt as desired – an advantage of using a sheet as batting is that you can quilt as little or much as you'd like & bind.