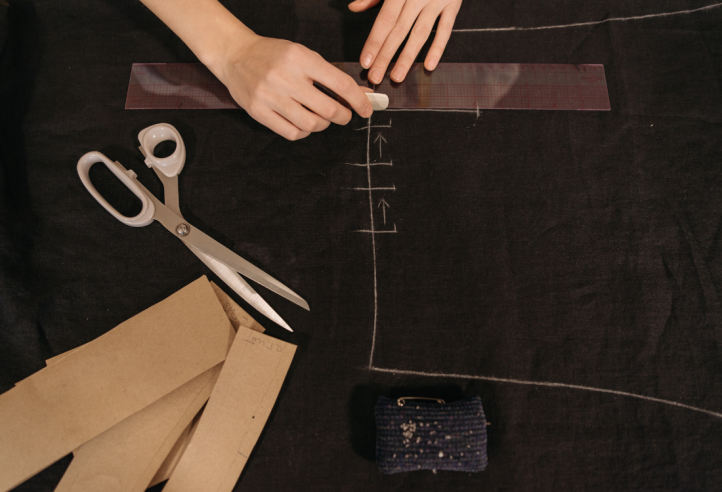 For sewing beginners, the number of different tools and notions available at your local fabric store can feel overwhelming — but it doesn't have to. Today, we'll break down one tool that you'll use on almost every sewing project: fabric marking tools. Fabric marking tools are used by sewists to trace patterns, indicate cutting lines, mark quilt designs and much more. But don't confuse these with the fabric markers you find in the crafting aisle. Unlike fabric markers, fabric marking tools are designed to be easily removed from fabric once you're done using them.
While there are multiple ways to mark fabric, and a mix of tools and products that cater to specialty sewing needs, today we're narrowing our focus to basic fabric marking tools that every sewist will encounter. This list is designed to help you pair the perfect tool with your next sewing project. If you're ready to embark on your next sewing project with confidence and precise sewing, then you'll love our handy list below.
7 Fabric Marking Tools for Sewing Beginners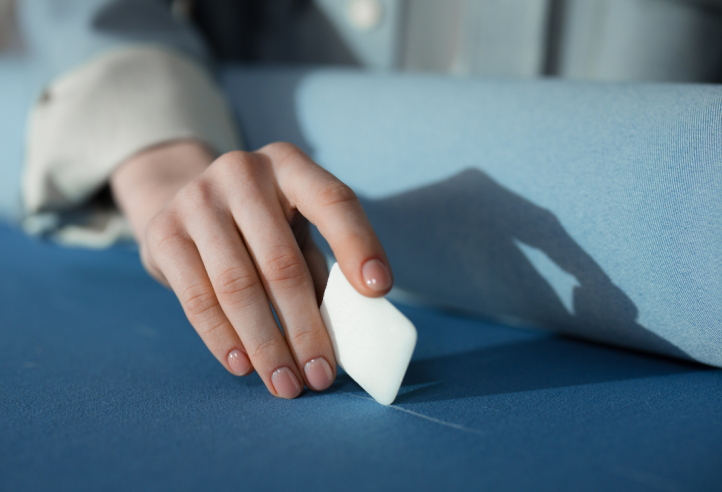 Tailor's Chalk – Tailor's chalk is hands down the marking tool that you're most likely to come across, following a pencil and ink pen. Available in multiple colors and shapes, tailor's chalk is great for drawing straight lines and can easily be removed from fabric with a bit of water. You'll often find tailor's chalk in a triangle shape, making it easy to handle. Please note that like all other fabric marking tools in this list, it's important to test your tool on a bit of scrap fabric before you begin using it on your project.
Tracing Wheel – An old school marking tool, the tracing wheel leaves tiny marks across your fabric to mark lines, darts and other pattern details. The tracing wheel can be used with tracing paper, which leaves dots of color across fabric to more easily see marking lines. When used alone, marks from the tracing wheel can be ironed out to smooth away any remaining fabric lines. According to Treasurie blog, in their article "How to Use a Tracing Wheel", tracing wheels are ideal for transferring sizes or when using vintage or reused paper patterns.
Chalk Wheels – Similar to tailor's chalk, chalk wheels use small pieces of chalk and can be wheeled across your fabric to leave marks. Easy to refill and to remove with water, chalk wheels are ideal for tracing fine lines on your sewing patterns. Like tailor's chalk, be wary of what chalk color you use, as brighter colors can be more difficult to remove from lighter-colored fabrics.
Water Soluble Pens – A favorite with sewists, water soluble pens are used for precise markings and are safe for almost all fabrics. Easily wiped away with a damp cloth, these marking tools are great for both light and dark fabrics. These pens are also excellent tools for embroidery work and Sashiko templates, as well as quilting and appliqué.
Disappearing Ink Pens – Disappearing ink pens are a more recent trend in fabric marking and in general have wider tips, making them ideal for creating wider lines in sewing and embroidery work. There are multiple types of disappearing ink pens and water soluble pens are sometimes included in this category, along with heat erasable pens. With disappearing ink pens, it's important to work fast, as lines can fade within 24-72 hours. Most can be wiped off with water, while some are air soluble. Disappearing ink pens are often recommended for washable fabrics.
Fabric Pencils – Available at most fabric and crafting stores, fabric pencils are another marking tool that is water soluble. These pencils are often light in color, so they tend to show up better on darker fabrics and are great for drawing delicate lines. A downside to fabric pencils is that they must be sharpened repeatedly, which is more time consuming when compared to other fabric marking tools included in this list. In general, fabric pencils work well with woven fabrics, as well as fabrics like vinyl.
Soap – Yes, you read that correctly. Some soaps can be used to mark fabric, although there are some caveats that come with this tool. Some bar soaps (the smaller, the better) can be used to mark washable fabrics only. A cost-efficient tool, it should be noted that soaps will leave a residue (hence, why the fabric must be washable) and sewists should be wary of using highly perfumed soap and how this can interact with different fabrics.
We hope this guide helps you find the perfect fabric marking tool for your next sewing project. From simple pencils to disappearing ink to tailor's chalk, there's plenty of sewing notions to choose from to make your sewing easier and more efficient.
What types of fabric marking tools do you use? Let us know below in the comments!