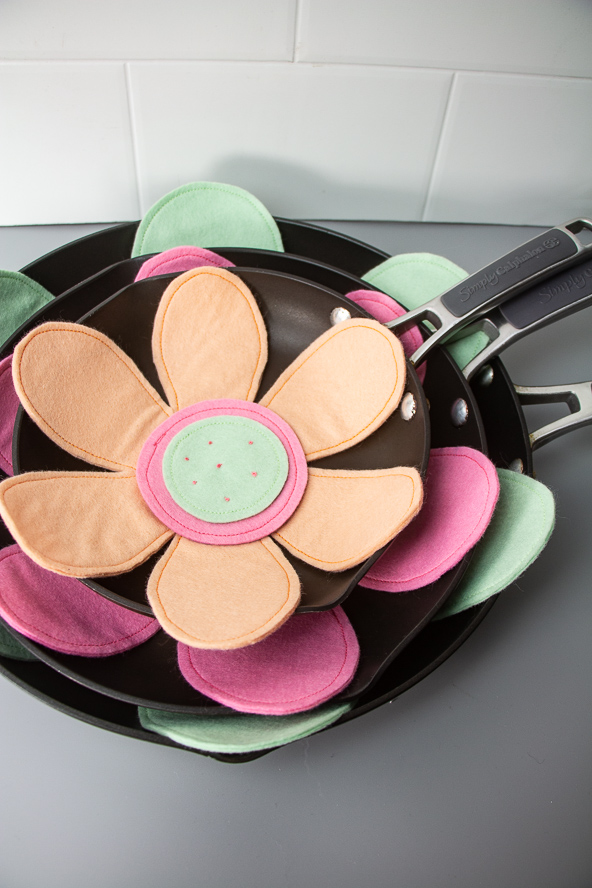 Keep your pans looking pristine for longer with these adorable pan protectors. Available in three sizes, these felt pan protectors are made in a retro floral design and are finished with easy embroidery details. This easy level sewing pattern is perfect for color matching with your kitchen décor palette and is a simple but effective way to save your kitchen necessities from scratches and other types of damage. Give your kitchen a little bit of flower power with these fun and practical sewing patterns. For a limited time, you can download the patterns for small, medium, and large sizes. PDFs are usually reserved for our Gold Members only.
Skill Level: Easy
Finished Sizes: 10", 12", and 15" across
Materials:
Fabric: Felt; green, two 20" squares; pink and peach, one 20" square of each

Sewing thread: Pink, green, and orange

Embroidery floss: Pink

PDF Templates –

These are located at the bottom of this page. See printing instructions below.
Tools:
Pencil

Scissors

Sewing machine

Pins

Embroidery needle
PRINTING INSTRUCTIONS:
To download the PDF templates, click on the download button at the bottom of the page. We recommend opening your download using Adobe Acrobat.
Instructions:
Download and print off the flower templates and cut two of each size from felt – using the green felt for the large size, the pink for a medium size, and the peach for the smallest size. (Note: These templates are located at the bottom of this page.)


Place each pair of felt flower pieces together, aligning the edges neatly. Pin, then work a straight machine top stitch around the edge of the shape to join the two layers together, leaving a seam allowance of around 1/4".


Make the large flower center by cutting two 4.5" circles from the pink felt, then layer them up and stitch around the edge in the same way as above. Repeat to cut and stitch two peach 4.5" circles for the medium flower center, and two pink 3.5" circles to create the smallest flower center. To vary the design, you can add a second, slightly smaller circle of felt on top of the first for a layered design.


Lay your felt flower shapes down and place the central circles into position in the middle of each one. Pin, then thread two strands of pink embroidery thread onto a needle and work a series of French knots across the center circle, working through all layers to hold everything together.


---
Gold Members, Download Here
Not a gold member yet? Join Now