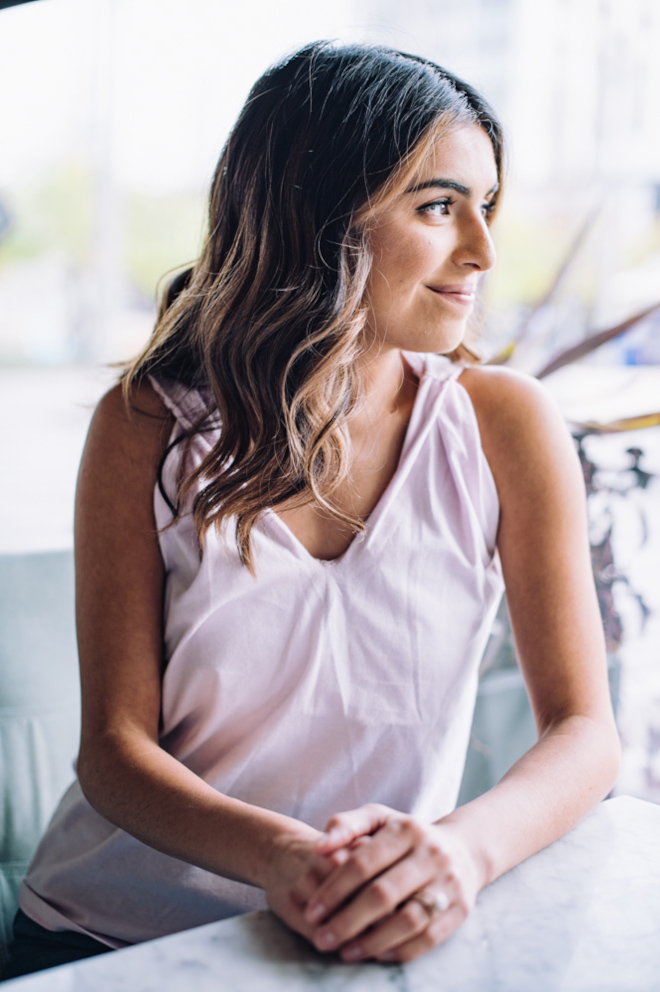 Breathe new life into a tired tee by transforming it into a dreamy tank top for spring and summer. If you're already dreaming of warmer weather, this simple refashioning project is an excellent snowy day DIY to keep the cold weather blues at bay. Update a plain crew neck t-shirt by altering the neckline and shoulders, leaving you with a flirty v-neck tank that looks stylish on its own or layered under a sweater. Old becomes new with this easy sewing tutorial!
Materials:
Crew neck t-shirt
Ruler
Sewing notions
Serger/overlock machine (if applicable)
Sewing Instructions:
Start with a crew neck t-shirt that is not oversized, short or long sleeved.  You may serge the unfinished edges but if you don't have a serger, a zigzag or overcast stitch from a sewing machine is fine.  The cutting and twisting will shorten the t-shirt by about 1-2". Of course, a t-shirt dress will also work. First, cut off the sleeves, including the seam allowance. Try it on without the sleeves to see how the armhole fits.

Mark the center between the armholes and the bottom of the neck and draw a vertical cutting line. The length from the bottom of the neck to shoulder is ~2" in the sample; your t-shirt might be different. Keep note of this length.

Draw a line from the center bottom of neck to one shoulder and then the other. Cut along these lines.

Cut off the shoulder seam and the back neck ribbing. If the armhole fits okay, lower the armhole by the length noted in step 2, divided by 2. In the sample tee, the length from the bottom of the neck to shoulder was 2"; therefore the armhole was cut 1" lower to create a gently sloped edge.  See left side with marking and right side already cut.  Reinforce top of side seams after cutting.

Sew a gathering row on each front shoulder, twisting each side as seen in the photo. Baste front and back shoulder seams 1/4" together and try on for fit. Necklines and armhole depths on t-shirts vary based on how slouchy or close fitting they are, so it is recommended to try on your top at this point. If not possible to try on, use the armhole depth general table below.  If the actual bust (not the t-shirt size) is 42", use the next smaller size, so a 40" bust has an 8" armhole depth.  This is based on general sizing charts; if the wearer is petite, shorten shoulder about 1/2" or so. Armhole depth is measured from the outer shoulder edge to the top of side seam. Since you are just serging the edges, no need to add seam allowances.

Serge the armholes, front neck, and back neck separately. Sew or serge the shoulder seams together. Topstitch the seam on the back shoulder.

Trim thread ends to finish.