While shopping for fabric at my local craft store is always fun, it still doesn't beat the thrill I get when I come upon a fantastic vintage find. There's just something about vintage fabric, whether a quirky cotton print from the '60s or a delicate antique lace, that just seems so magical. Knowing that this fabric has survived the tests of time and has been pre-loved just makes it seem extra special. That's why I'm here to share our thrifty guide to vintage fabric!
From the best places to find secondhand fabric to tips on treating stains and age discoloration, I'll give you a quick tour through all things vintage fabric. Plus, I've included a handy checklist of things to look for when you're thrifting, so that you can quickly judge whether a piece of fabric is a thrifty treasure or beyond all hope. Embrace shopping secondhand with this guide for thrifty sewists and quilters.
Where to Shop for Vintage Fabric
When it comes to shopping for fabric secondhand, there are a ton of excellent, affordable options. My main piece of advice before we dive into things is that if the price is acceptable and the fabric is salvageable, buy it. Non-buyer's remorse is very much a thing. Trust me, I'm still thinking of the pink flowered tablecloth I found earlier this spring in a Tennessee thrift store that I didn't buy. With the uptick in online vintage sellers, things like vintage bedsheets, tablecloths or linens are now hot commodities. So, if you see a piece of fabric at your local thrift store, I recommend getting it unless it's way overpriced or extremely damaged.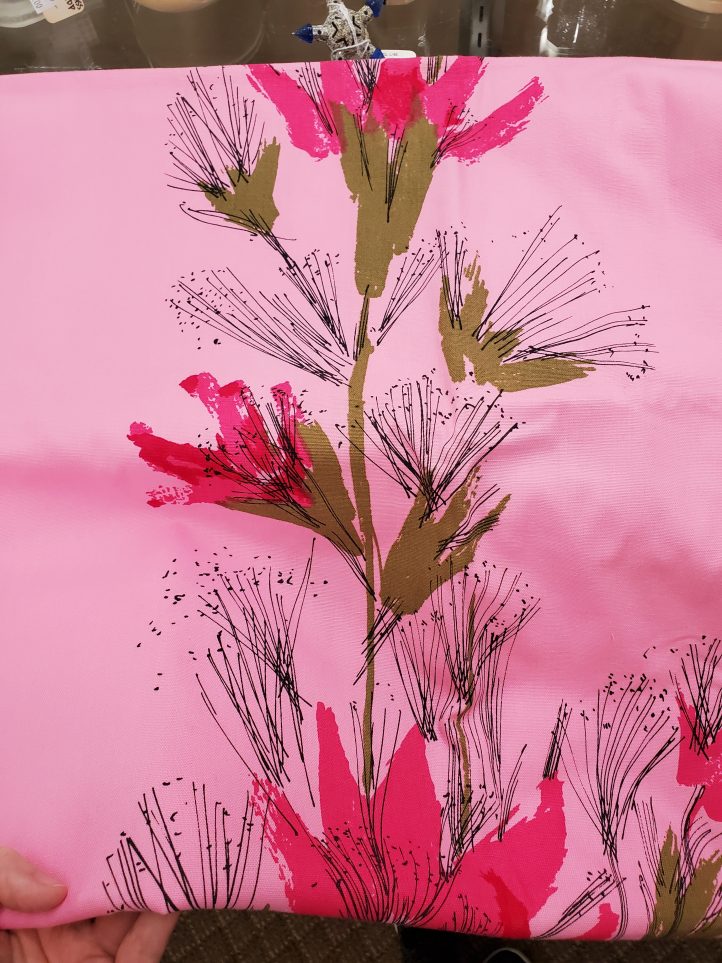 That brings us to our first question: where do you find secondhand fabric? Below is the list of affordable places to shop for common everyday fabrics (cotton, linen, etc.). If you're interested in specialty fabrics or notions, like Victorian lace, I would recommend searching for sellers that specialize in antiques.
Garage/Estate Sales – Garage sales and estate sales are both wonderful places to find vintage fabrics (For more info on garage sale shopping, be sure to check out our July 2022 article, "The Thrifty Sewist's Guide to Garage Sales"). They're incredibly affordable and are great for finding large pieces of fabric, like sheets and shower curtains, as well as scrap fabric bins for quilting. Be warned that you may come across fabric that's been exposed to cigarette smoke, pets and other odors, so you'll need to thoroughly wash any fabric items you purchase. A bonus with estate sales is that you can often view sale items online in advance (check out estatesales.net for US residents).
Thrift Shops – The majority of vintage fabric I find is from thrift shops. Shops like Goodwill are havens for pre-loved fabrics and it's very easy to find fabric from the 1980s and older mixed in with more recent donations. Be prepared to dig; thrift stores constantly get donations, so you'll have to root through shelves and racks to find those vintage gems. Like garage sale and estate sale finds, you'll also need to thoroughly wash any items before using them. Be sure to double-check for pesky stains as well!
Flea Markets – In my personal experience, flea markets are great for smaller fabric items such as scarves, towels, and cloth napkins and it's here you'll often find sellers who specialize in vintage items from specific decades. Like thrift shops, you'll probably need to dig through tables of items before finding what you're looking for. More than the other locations on this list, I would recommend coming with a list of what you're looking for to keep on hand.
Online Shops like eBay and Etsy – I have to admit: I have a bit of a problem when it comes to buying vintage on Etsy! It's so easy to search for exactly what you want and there are countless shops on these sites to choose from. While I am a huge fan of shopping on these sites, I also recommend checking to see if a shop owner's also sells through Instagram. That way they avoid Etsy fees and you can support a small business directly. Be prepared to pay for higher prices on your fabric finds on eBay and Etsy, especially when you factor in shipping.
Antique Stores – Some of my favorite finds have been at local antique stores. Prices will vary on each seller's booth but in general, I've found pieces like cotton tablecloths or random yards of fabric for cheap prices. My tip: Always look on the bottom shelves at antique stores. While smaller fabric items like hankies or scarves are typically found closer to eye level, bulkier piles of fabric are often stored or displayed closer to the ground.
Family and Friends – This may sound like a no-brainer (and isn't technically shopping) but if you're having trouble looking for a specific type of fabric, asking around, either directly or via Facebook, will turn up more surprises than you expect. A few years ago, my great aunt who owned a small fabric store in Indiana passed away, and when clearing out her house, her family was astonished at just how much fabric, notions and patterns she had accumulated throughout the years. We're talking stacks of plastic storage tubs, all filled with fabric! They opened up her stash to any family member who was interested, and my great aunt's love of sewing, quilting and crafting was passed down to her nieces and cousins.
Your Thrifty Fabric Shopping Checklist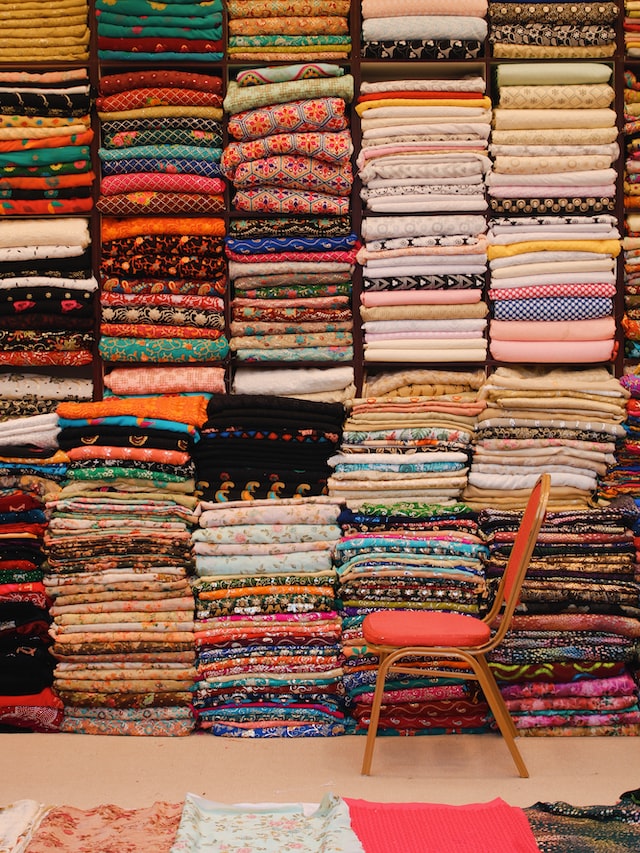 Now that we've covered where you can buy thrifted fabric, let's talk about what to look for when you're shopping. This handy checklist will let you determine whether to purchase a piece of secondhand fabric (Note: This checklist is intended for in-store shopping). Ready to start shopping? Let's go!
What potential projects would you use this fabric for? Is there enough fabric for this project?
If you'll be using this fabric to make clothing, notice if it has a directional print. Keeping this in mind, is there still enough fabric for your project?

Note: You can always bring a tape measure with you!

Are you planning on keeping the original hems/seams and if so, are any of them coming undone?
Is there any pilling on the fabric or any areas where the fabric seems thinner?
If this is a larger piece of fabric, unfold it. Are there any stains, and if so, are you able to identify them?

Below, we'll share some common tips for treating vintage fabric!

Time for the smell test. Do you immediately notice any strong smells, like cigarette smoke or pet smell?
Is there a window in the shop? If so, take your item and look at it in natural lighting. Do you notice any discoloration to the fabric due to aging or fading?
Want to keep this list with you when you shop? Don't miss the printable PDF of this list, located at the bottom of the page!
10 Tips on Treating Vintage Fabric
We've all done it. You buy a gorgeous piece of fabric at your local thrift store, only to sadly discover when you get home that it has an annoying ink stain. Don't fret! In this section of quick tips, we'll help you get those pesky fabric stains out, as well as talk about how to deal with other issues that might arise.
Some damage is permanent. While you can treat everyday stains, things like sun-rot, mildew and mold typically make a fabric unusable, which is again why it's so important to open fabric and double-check before buying.
Online sellers will typically list any fabric damages, so be sure to read through ALL their notes on items, as often vintage items cannot be returned.
To treat fabric damaged by cigarette smoke, you will need to air it out first. You can then try soaking the fabric in warm water with baking soda. If possible, air dry your fabric on a clothesline.
For age-yellowing, cleaning solutions like Retro Clean or Restoration Fabric Restorer are excellent.
To treat ink stains, you can sometimes use isopropyl alcohol (applied to small stains with a cotton swab), as well as cleaning solutions like those mentioned above.
Determine whether your fabric can handle washing in a machine or whether it will need to be soaked in a tub. If the fabric is very brittle, it may need to be taken to a professional cleaner.
You can use lemon juice to help remove rust stains! For non-specialty fabrics like cotton, treat rust spots with lemon juice and lay the fabric out in the sun. Gently wash your fabric and repeat if needed.
When soaking your fabric, you'll want to gently agitate the water. Do not wring or twist the fabric.
Hydrogen peroxide can help remove blood stains from fabric (again, this will depend on the type of fabric).
For help removing pet smells, try using white vinegar. A simple spritz for light pet smells, a soak for medium to heavily scented fabric.
We hope you enjoyed our guide to vintage fabric and are ready to start hunting for thrifted treasure. Do you have tips and tricks you'd like to share with your fellow readers? Feel free to leave a comment below!
---
Gold Members, Download Here
Not a gold member yet? Join Now