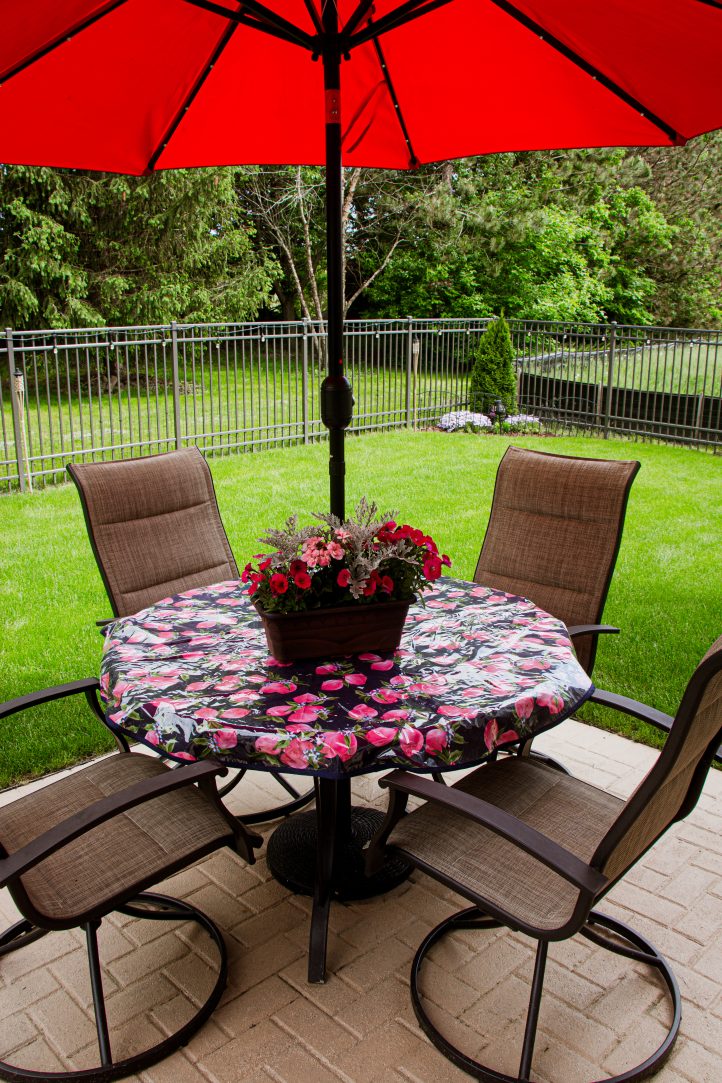 Give your patio a refresh with this outdoor tablecloth that you can make in nine simple steps! Choose a fun summer cotton print and select the measurements that best fit your patio table to make a charming tablecloth for outdoor events and cookouts. This easy sewing project shows you how to work with sewing vinyl, so that you can design a stain-free tablecloth that's super easy to wipe down. Prep your patio for the start of backyard barbecues and potlucks with this outdoor sewing project.
Skill Level: Easy
Finished Size: 40" x 40" – 55" x 55" – 69" x 69"
Seam Allowances: 0" (bound edges)
Materials:
Fabrics

Cotton print fabric – 1 1/2 yards (40" size); 1 1/2 – 3 yards, depending on width of fabric (55" size); 3 3/4 yards (69" size)
Clear soft vinyl 4 gauge (around 5.97oz weight)

5 yards of double fold bias binding (1/2" finished width), either bought or made
Teflon sewing machine foot
PDF Pattern – This is located at the bottom of this page.

Note: When downloading this pattern, we recommend opening your pattern download using Adobe Acrobat.
Instructions:
Depending on your table size, cut one piece, on the fold (or two if your fabric isn't wide enough) from each, the cotton print and the vinyl.
Lay the cotton print piece right side up, then place the vinyl piece over top, matching outer edges and inner circle cut out. Pin together.

Using the Teflon foot, baste the pieces together about 1/8" away from the edge starting around the outer circle.

Then stitch together the layers around the center circle cut out in the same manner.

Starting at one point along the outer circle, start to pin the pre-pressed bias binding, sandwiching the tablecloth layers in between the fold. Pin around the entire outer edge, leaving 1" for overlap from where you started.

Repeat the process for the inner circle cut out, leaving some excess binding for overlap as well.

Starting at one binding edge, stitch the binding to the tablecloth approx. 1/8" from the inner binding fold.

When you reach the starting place of the binding stitching, fold the binding end back 1/2″ and overlap the binding by 1" and stitch.

Repeat stitching the binding around the inner cut out. Sewing around the smaller circle, you may have to do more pivoting and double checking the binding is stretching around the curve nice.

---
Gold Members, Download Here
Not a gold member yet? Join Now