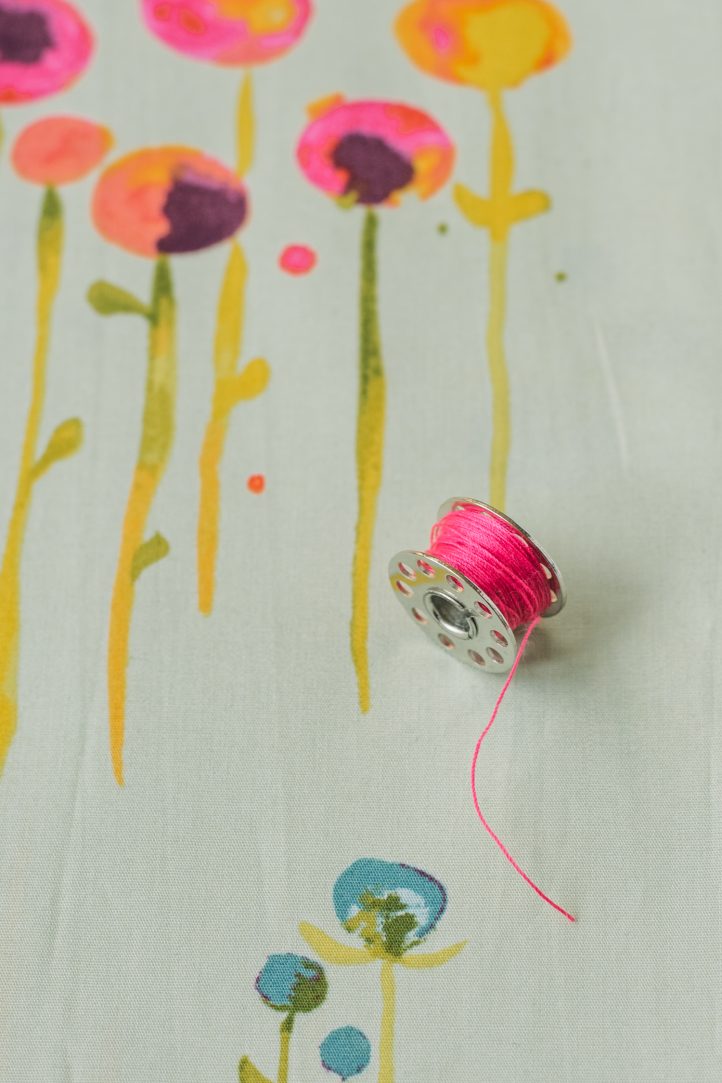 Everyone remembers the beginning of the pandemic, especially those March-August months, when people were trying to make the best of an unprecedented situation. So many things changed socially, and we were all forced to reevaluate our way of living and how to keep ourselves entertained while being stuck indoors. Enter sewing! While sewing has always been a popular pastime and hobby, fiber arts such as sewing skyrocketed in popularity during the pandemic as younger generations were introduced via social media to hobbies like sewing, embroidery, quilting, cross stitch and more. Let's explore how sewing and the pandemic evolved by examining sewing's impact on social media, as well as the current cottagecore aesthetic.
Enter TikTok
Built off the acquisition of the already-existing app Musical.ly and known today as Douyin in China, this app exploded across the globe. It's the 7th most downloaded app of all time, behind big names like Facebook, WhatsApp, Instagram and Snapchat. It's impossible to know whether TikTok would have done so well if the pandemic had never happened, but one thing is for sure: in many ways, the app benefited from our lack of in-person interaction. TikTok also attracted a younger audience, mainly Generation Z (ages 13-24), according to Brian Dean's article, "TikTok User Statistics (2022)."
Another interesting event of 2020, which largely went unnoticed due to the landslide of other news, is the sewing machine shortage. It took place largely between April and August of 2020 but was felt for months after as machine models were backordered and purchasers were expected to wait a long time for their machines to arrive.
The question is this: did the rise of TikTok, with its widespread audience and closeness with younger generations, work perfectly hand-in-hand with the pandemic tendency for hobby adoption to bring "old" hobbies such as sewing, knitting, crochet, and embroidery to the young masses?
Cottagecore and Sustainability
A trend on all social media (not just TikTok) has been the idea of "having an aesthetic," in which a person creates (through a mix of clothing and style, attitudes, books, crafts, hobbies, and/or ways of life) a lifestyle that evokes a certain feeling or idea. Cottagecore is one of these aesthetics and one of the most popular of 2020. According to Ambar Pardilla's HuffPost article, "What Is Cottagecore? Meet the Biggest Trend During Quarantine," it involves "looking and living like you're in some sort of pastoral painting — even if you live far, far away from a farm." Pardilla goes on to explain its "best illustrated by items like radish gardening gloves, peach-printed home decor, floral dresses with puff sleeves and tiered skirts."
Although sewing and other hobbies don't fit specifically into the aesthetic, it's considered very cottagecore to embroider some flowers onto the hem of your skirt or sew together old burlap to make a cute flea market tote. And even though cottagecore is one of the biggest pipelines through which TikTokers could learn appreciation for sewing, its ability to be incorporated by many aesthetics has helped improve the popularity of sewing with younger generations. For instance, sewing your own pink ballgown might connect with Disney fans, fantasy book lovers, and fashionistas, as well as cottagecore TikTokers.
In addition to all these trendy aesthetics, Gen Z's passion for sustainability and greener choices have made sewing and crafting from scratch a hot new hobby. The concept of "thrift flip" where someone goes to the thrift store and alters the purchased clothes into something new is also popular. Just type thrift flip into YouTube and see how many video results pop up. TikTok is another platform for this kind of material, and these thrift flip/make-your-own-clothes videos thrive because it connects so well with TikTok's primarily young audience.
How Has This Affected Sewing?
It's difficult to pinpoint whether TikTok officially made sewing cool again. The pandemic caused TikTok to rise in popularity, so is the pandemic and its myriad of new hobbies the real cause? Or does the true root trace back to the eco-friendly content that young people love, even before 2020? Regardless of whether the chicken, the egg, or the app came first, young people are loving new hobbies enough to affect the economy and our culture as a whole.
When TikToker viewers saw influencers diving happily into the activities their parents and grandparents did, they wanted to do the same. And at the beginning of the pandemic, many of them scrambled for sewing machines, causing the shortage. From the biggest to the smallest retailer, from beginner models to advanced ones, sewing machines were out of stock.
In terms of culture as a whole, this phenomenon proves that there is nothing new under the sun. "Old" and "vintage" are in, and the same things favored by the culture-shapers in the '70s, the rockers in the '80s, and the homemakers in the '50s are now being lavished with the same love. TikTok reminds us that culture is a mimic and very circular.
So if you've ever dreamed of teaching a daughter, son, mentee, niece or grandchild the hobby they would have turned their nose up at three years ago, now is your chance. That is, if they haven't bugged you to use your sewing machine or look through your closet for "vintage" pieces already.