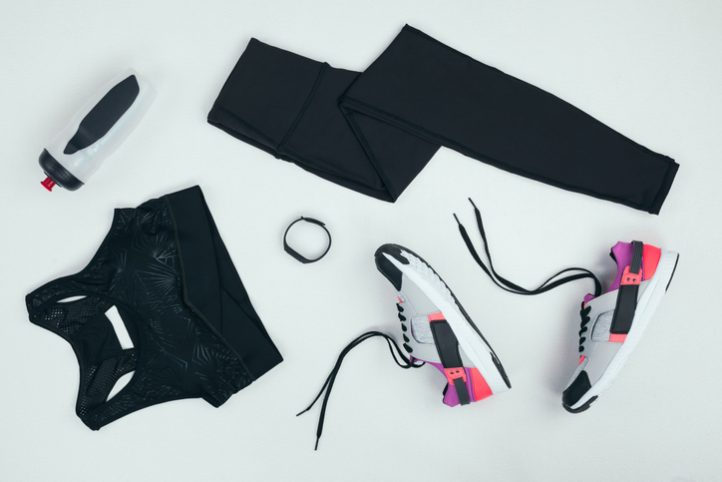 One of the biggest fashion trends of the past few years is "athleisure." This refers to the mixing of athletic wear into everyday comfortable clothing that is still stylish. Athleisure wear can even be embellished and high-end, as long as it looks like it can be worn to work out. If you want to start sewing your own exercise and athleisure clothing, you might be wondering what kinds of fabrics are the best choice. This guide will describe the various fabric options available, making sewing this trend a breeze!
Defining Athleisure
As previously mentioned, "athleisure" clothing is the merging of athletic clothes with fashionable streetwear. It's gained in popularity in the past few years, especially as companies relax dress codes in offices. As sneakers and other athletic shoes became more prevalent, clothing followed.
Athleisure is different than traditional "exercise" clothing in that it tends to be more fashion-forward and can often be worn from day into night. Embellishments such as rhinestones, embroidery, and other features are also found more often in athleisure wear. Athleisure ranges from the affordable (found at shopping malls and online retailers) to the very expensive (seen in international designer boutiques).
Recommended Fabrics: Our Seven Picks
Cotton Jersey Fabric
Bamboo Blend Fabric
Spandex Fabric
Polyester
This synthetic material is commonly used in athleisure and workout wear due to its versatility. Found in every aspect of athletic clothing, polyester is preferred because it's breathable, quick-drying, and can be easily worn in many situations. It can be used to sew form-fitting items (like leggings) or more loose-fitting garments (like jackets). Polyester and polyester blends are also quite durable, so it won't wear out from friction during workouts.
Spandex
Often known by the brand name Lycra ® or elastane, spandex material is a very stretchy synthetic fabric. Commonly used for cycling and other sports gear, spandex was made popular in the 1980's when worn during aerobics videos. The pros? It dries quickly, retains its shape, and is primarily used in form-fitting clothing. Spandex-blend fabrics can also usually be machine washed, making it easy to clean after a workout.
Cotton
Natural fibers like cotton can also be used to make athleisure clothing, though they're not typically recommended for sweaty activities as they can become wet and heavy. Cotton is available in an endless range of colors and thicknesses, so it usually comprises most t-shirts that are worn in athleisure looks. It's often blended with other fibers (like polyester) to give it a little stretch.
Bamboo
The strong, fast-growing bamboo plant fiber is also used for workout clothing. Bamboo fiber is usually combined with other materials (like cotton or hemp). It dries quickly and is slightly more breathable than cotton.
Nylon
This fabric has been popular since the 1980's for sportswear and is having a resurgence with athleisure. "Rip stop nylon" in particular is perfect for track jackets, shorts, and other garments that will be layered. Nylon tends to work better for baggier clothing, unlike polyester and spandex items, which can be made more form-fitting.
Velour
Made ubiquitous with the matching tracksuit, velour is a luxurious fabric that can be used for athleisure and workout clothing. Made from synthetic fibers, velour is a more casual (and affordable) version of velvet. Velour is usually pretty thick, making it warm and perfect for chilly mornings when warming up. It's also easy to care for and machine washable.
Lamé
Known as the most instantly recognizable workout fabric of the 1980's, lamé is a shiny material that definitely gets noticed. Metallic lamé is the most common, especially in variations of gold and silver. When spandex is added to lamé, it becomes stretchy. This makes it perfect for sewing leggings, bodysuits, and other form-fitting workout and dance wear. Currently lamé is making a comeback, especially in athleisure looks
Choosing Your Fabrics
The right material to pick for an athleisure sewing project depends on the pattern and intended use of the garment. Thick, heavy fabrics will be less breathable, but can be worn when warming up or just casually around town. For workout wear, pick more breathable, lightweight materials like those mentioned above. Additionally, fabrics that can be machine-washed make for the best active wear because they are easily cleaned if worn to work out.
No matter which kind of fabric you choose for an upcoming athleisure sewing project, have fun with this comfortable trend!