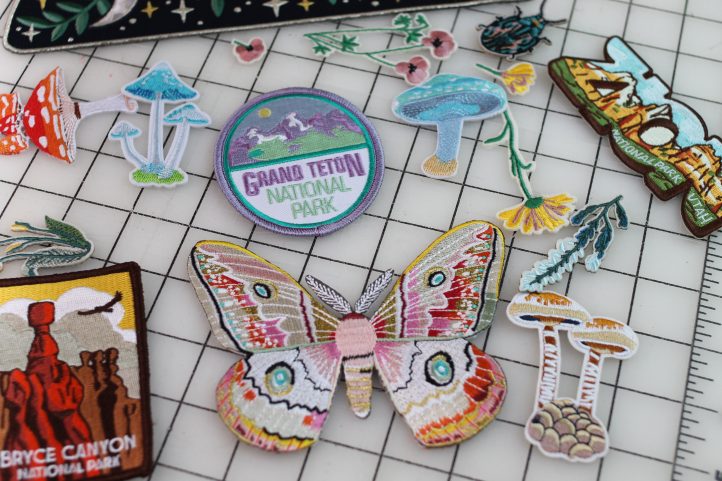 Patches are a classic way to jazz up a denim jacket, letting you personalize your style whether it is classic, nerdy, colorful, or outdoorsy. They make a great souvenir while traveling, often found in gift shops and national parks, but can also be purchased in bulk lots off Amazon and eBay. Etsy also has several independent artists selling their own art on patches, ranging from cute kawaii to R-rated risqué. There are several tutorials for how to make your own hand-embroidered patch if you want to DIY without stitching directly on the jacket; hand embroidering directly on the jacket means it's stuck on there for good whereas a hand embroidered patch can be removed or adjusted easily!
Jean jackets are great item to thrift, but if you're starting with a brand new jacket, make sure to machine wash and dry it before you start adding patches, in case it shrinks. Once your patches are sewn on, it's recommended to wash in cold water and hang dry to prevent any color running and keep it looking nice longer, regardless of how you've attached them.
Patch Placement
Lots of patches come with a permanent iron-on backing that acts like fabric glue; however, this isn't the most secure way to adhere patches to a denim jacket. Ironed-on patches are more likely to fall off and get lost, or get dirty around the edges as they lose adhesion and curl up. Fabric glue may seem like an alternative to ironing on or sewing but it is less secure than sewing when it comes to washing and drying, and it also makes patches feel stiffer. Lastly, if you change your mind about placement, you won't be able to move them without glue residue left behind whereas with sewing you can just seam rip!
Keep in mind where your body has curves! Larger patches will be more rigid and are best suited for the back panel instead of the front chest pieces. If you use your pockets often, also take care to place patches where they won't rub your wrists funny. Also consider leaving space for future patches to add to your collection as you go!
Place all your patches out before committing to a layout; take a photo with your cellphone to remember how you have them placed and then you can use washi or painter's tape to keep them in place. Pinning them can distort the shape and leave permanent holes depending on the patch.
Machine Sewing Patches On


You can use your sewing machine to attach patches to a denim jacket; this method is more secure than hand sewing and may be quicker but also can create challenges if your machine's tension needs to be tweaked. You'll need to switch to a denim sewing machine needle before getting started; smaller needles are likely to break sewing through a thick patch and denim at the same time.
There are two different feet that you can experiment with to see which you prefer sewing with. An applique foot has clear plastic so you can easily see where you're sewing and stay along the edges. A walking foot has feed dogs pulling the fabric along evenly, which works great with multiple layers of fabric; however, you can't see where you're sewing as well.
If you're using a machine to attach the patches, you'll want to double check that the underside of your stitching is just as neat as the front, because you'll be able to see it when you take your jacket off!
Hand Sewing Patches On


Hand sewing your patches on will take much longer and be less secure, but it avoids machine tension issues and can be a meditative project. Not using a machine allows you to work on your patches while in the car or watching tv, instead of stuck in your sewing space! You'll want to use a heavy-duty needle and consider proactively preventing bruises and finger strain by using a thimble. If you're trying to do lots of patches at once, consider using hemostats to pull the needle through the material and save your fingers.
There are a few hand sewing stitches to try when attaching patches by hand – a simple running or back stitch are the simplest. A whipstitch is quick but will show some along the edges; a blanket stitch is very secure and adds a design element to the patch. For anyone looking to replicate the 'glued on' aesthetic with more security, you can also use a ladder stitch to invisibly attach the patch from the back; this will be the most time-consuming option.