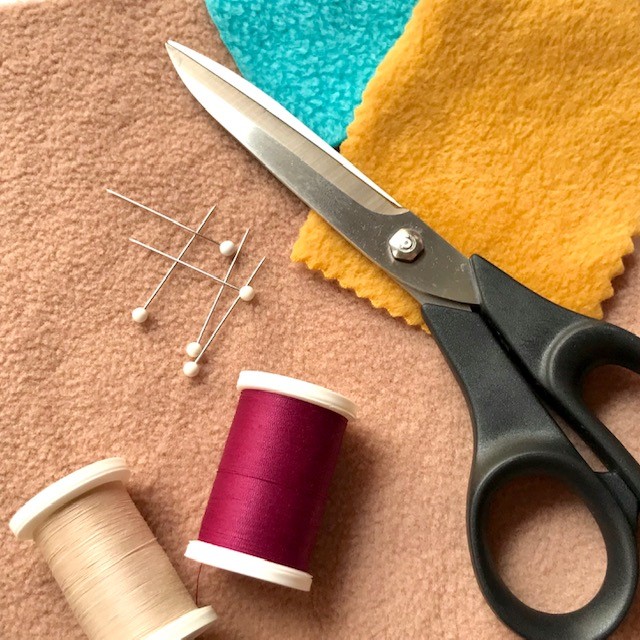 Fleece fabric is a popular choice due to the affordability, wide variety of colors and patterns available, and the softness and warmth it provides. This makes it the perfect material to use for creating sweatshirts, blankets, mittens, and more! Follow this article to learn about the proper sewing machine settings, supplies, and tools to use when working with synthetic fleece fabric.
Choosing Fleece


Most fleece used today is made from polyester fibers, though wool and other kinds do exist. It's a wonderful fabric to work with because it doesn't shed or fray much, comes in many prints and solid colors, and is easy to use in sewing projects. Besides these differences, fleece also comes in various thicknesses (or "weights"). Heavyweight types are typically used for hats and thick coats, while thinner fleece is often made into light pullovers and other casual garments. Throw blankets from fleece can be found in a variety of weights, depending on the desired warmth and use.
Lining Up Pieces
Like many fabrics, the fibers that make up synthetic fleece align in a certain direction. This is often called the "nap" of the material. It is more pronounced on some fabrics than others. When cutting out and sewing pattern pieces made from fleece, always be sure that the nap is facing the same way. If you sew together a garment with the panels cut in different directions, it will look "off." Consider the nap to be the fabric's grainline and align the pieces accordingly.
Recommended Supplies


When sewing fleece cloth the cutting tool, thread choice, and pin type are very important. All-purpose polyester thread works well for most fleece items, and a standard machine sharps needle will cover most bases. This makes fleece so easy to use with common sewing supplies! A few that are recommended are:
Quality Fabric Scissors: Sharp fabric scissors are essential for cutting fleece fabric during the sewing process. Rotary cutters can also be used but may not give enough control when going through thick fleece. A quality pair of shears will yield accurately-cut fabric, creating a well-fitting garment or other item.
Pins: Sewing pins that are in good condition and sharp will hold the pieces of fleece together nicely. Long pins with the round ball on the end tend to work better with thicker, plush fabric (rather than the short kind with the small flat head). The colorful balls on the end make the pins stand out so they are easier to see and remove.
Polyester Thread: Synthetic polyester fleece fabric can be sewn with most types of thread, though all-purpose polyester is the best choice. It has a similar fiber content to the fabric itself so it works really well. Match the thread color to your fleece so it's nearly invisible!
Machine-Sewing Fleece


The best way to sew a large fleece project is usually with a machine. Machine-sewing creates a strong stitched connection between fabric panels. Fleece fabric can also be easily joined and/or finished using an overlocking machine (serger). When sewing fleece fabric, frequently change the machine's (all-purpose) needle to ensure it is working well and not damaged in any way. Besides the thread and needle selection, the sewing machine's settings will also affect the end result when working with fleece. Straight or narrow zigzag stitches are perfect for fleece's texture and fiber content. As for stitch length, longer settings are generally preferred for sewing fleece. Additionally, if you have trouble with the machine getting stuck under thick layers of fabric, consider using a walking foot.
Hand-Sewing Fleece


Fleece can still be sewn, stitched, and adorned by hand if you don't have a machine available or want a rustic look. When sewing fleece together, all-purpose thread and a standard hand-needle are recommended for durability. This process may take a lot of time and thread depending on the plushness and thickness of the fleece material. If the hand-sewing is more decorative (or temporary), then embroidery floss can be used with a large crewel (or embroidery) hand-needle. Embroidery floss glides easily through fleece fabric and provides a unique way to finish a handmade item.
Keep these tips handy for your next fleece sewing project!